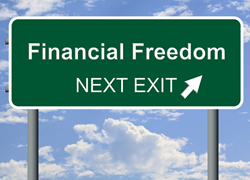 Washington, DC (PRWEB) October 21, 2014
According to statistics from Nerd Wallet Finance, the average American household currently holds $15,601 in debt. This burden plagues many Americans everyday as most don't know how to minimize the debt and improve their financial situation. In light of this, New York Times and USA Today Best Selling author, Sanjay Jain, M.D. MBA provides tips from his new book on how to get back on track financially and become debt free.
Sadly, many Baby Boomers feel that they'll never be able to be financially secure because they're taking care of their aging parents while also financially supporting adult kids who came of age during the recession. This double-whammy is serious, but there are several things that people of all ages can do to better their financial situation by paying off their debt. Young, under- and un-employed people are feeling the same; they're burdened by student and car loans, but unable to make much headway.

Give every dollar a name by making--and sticking to--a budget: Start by writing down every monthly and annual expense that comes up, even birthdays and major holidays like Christmas, and insurance payments that are only made once or twice a year. Add up the expenses and compare them to the household income to get a better picture of where the money's going.
Cut out the extras: Many people are shocked to find that they're spending huge amounts on non-necessities like eating out, shopping and extra travel. While none of these are bad in and of themselves, for people who are trying to dig out of debt, cutting out the extras cold turkey will likely help them get back in the black sooner than they thought possible. Cut back on expenses ruthlessly; ten years from now, those cute black boots will only be a distant memory.
Try a budgeting worksheet and stick to them as much as possible: Tweak them as necessary; if it usually takes $600 to feed the family, don't try to cut it down to $450 right away. Another way to keep from going over the budget is to go cash-only. Put the credit and debit cards away and take out only enough cash to cover budgeted expenses for the pay period.
Consider taking on second, and even third, jobs when trying to eliminate debt: Not only will the extra money help pay off the debt that much sooner, few people want to repeat a time in their life when they were working 16-hour days, so they'll think twice about going on a shopping spree or buying a new motorcycle on credit.
Try a debt snowball, whereby minimum payments are made on all debts, but any and all extra money is thrown at the one with the smallest balance: This provides a psychological "win" and keeps people motivated. Forbes suggests that people pay off the debt with the highest interest rate, which saves more--though not usually a significant amount--of interest. People should choose the one that resonates with them, and stick to it, for the best success.
For more information on consolidating and eliminating debt please visit Dr. Sanjay Jain's website at http://www.sanjayjainmd.com/.
About Dr. Sanjay Jain:
Sanjay Jain, M.D. MBA is a New York Times and USA Today Best Selling author, accomplished medical doctor, health expert, life coach and inspirational keynote speaker who has dedicated his life to helping people find their purpose by achieving a meaningful life that they deeply cherish.
Sanjay Jain is U.S. trained and a board certified physician with over 15 years of clinical experience. He holds certifications in Diagnostic Radiology, Integrative Medicine, and Healthcare Quality and Management. He is a graduate from the accelerated BS/MD program at The Northeast Ohio Medical University. He has diversified experience in the private practice, academic, and integrated multispecialty settings.
He was a former assistant professor at The Ohio State University where he also obtained his MBA at the Fisher School of Business. The combination of which has given him a unique voice and understanding of the many issues we face today in a real and practical sense.
Follow Sanjay on Twitter at @sanjayjainmd. His new book, Optimal Living 360: Smart Decision Making for a Balanced Life (Greenleaf) is available in stores now!