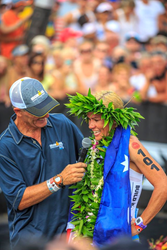 ST. LOUIS, MO (PRWEB) October 20, 2014
yurbuds®, the #1 selling sport earphone in the United States, supported its Elite Athletes at the Kona Ironman® World Championship and cheered on yurbuds' Mirinda "Rinny" Carfrae as she took home the Ironman World Championship title. With an overall finishing time of 9:00:55, Carfrae delivered a record-setting 2:50:26 marathon time, 12 seconds faster than her 2013 victory, which won her the championship.
As a yurbuds Elite Athlete, Carfrae began working with yurbuds after using the earphones during training sessions. She represents the brand's mission to let nothing stand between you and your goals with the only earphones that never hurt and fall out. Carfrae embodies that message with her unprecedented race time and her first place finish at this year's Ironman World Championship for the second year in a row further illustrates her #neverstop attitude.
As part of the yurbuds team, which includes a wide variety of athletes, Elite Athletes play to win, give a little bit more during every workout, push harder and #neverstop. yurbuds Elite Athletes that attended this year's Kona event, including Pete Jacobs, Meredith Kessler, Amanda Stevens, Harriet Anderson, TJ Tollakson and Tim O'Donnell, dominated the brand and created a strong, positive representation of the product.
With her very own Signature Series debuting this holiday season, the line was inspired by Carfrae's intense training sessions. "Many long, solo runs led to this course record and I would not have made it through without my yurbuds," said Carfrae after winning the race and reflecting on her path to success, "I feel lucky to be a part of the yurbuds family."
The yurbuds team provided branded towels and shirts for attendees, volunteers, and supporters. Yurbuds also provided live up-to-the-minute coverage via social media and a demo table featuring onsite product giveaways. Competing World Champion athletes could stop by the yurbuds tent for a free pair of sports earphones.
"HARMAN is excited to continue the tradition of the yurbuds brand in supporting top endurance athletes," said Michael Mauser, President, Lifestyle Division for HARMAN. "Having a presence at Kona really spoke to our core fans, followers and athletes."
For a complete list of yurbuds Elite athletes, visit http://yurbuds.com/en/content/9elite-team. For more information on yurbuds, go to yurbuds.com.
About yurbuds powered by JBL and HARMAN.
yurbuds powered by JBL was founded in 2008 with a mission to transform the athlete's experience through personalized service and exceptional audio products that integrate ergonomics and emotive design. yurbuds powered by JBL is a brand of HARMAN, the industry leader in the design, manufacturing and marketing of premier audio, visual, infotainment and integrated control solutions for the automotive, consumer and professional markets. With leading brands, including AKG®, Harman Kardon®, Infinity®, JBL®, Lexicon® and Mark Levinson ®, the Company is admired by audiophiles, musicians and the entertainment venues where they perform. HARMAN has a global workforce of approximately 16,000 people and reported sales of $5.3 billion for the 12 months ended June 30, 2014.
yurbuds products have been honored by the 2013 International CEA Innovations Design and Engineering Awards.
###