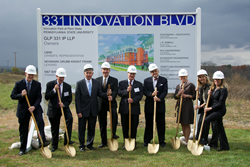 Space in the park is in demand. In the past 18 months we've had immediate-need requests...With no vacancy in the park...we need additional space.
University Park, Pennsylvania (PRWEB) October 22, 2014
Tuesday, October 21st, GLP 331 IP of Baltimore, led by GLP Development Company broke ground on 331 Innovation Boulevard in Innovation Park at Penn State. The four-story facility will provide 82,000 square feet of leasable space, and will be the first LEED-certified building in Innovation Park. The building is scheduled for completion late August 2015.
"Space in the park is in demand," says Dan Leri, Director of Innovation Park at Penn State. "In the past 18 months we've had immediate-need requests and sufficient inquiries for space to initiate the next build program in the west end of the Park. It's one more step in the execution of the park's master plan build out. With no vacancy for the past few years, we need additional space to offer companies and organizations interested in joining the Innovation Park community."
Robert F. Barron, CEO and Managing Partner of GLP Development Company, said Innovation Park is attractive to companies seeking the unique qualities of a college town, and access to resources like Penn State research, technology and talent. "Innovation Park is a unique business campus that's unlike traditional office parks," says Barron. "It's as much about the people and the connections they make through the park as it is about the buildings in the park—that's been the key to attracting and retaining resident companies." The Penn Stater Hotel & Conference Center is within walking distance from the business park, providing fitness and dining options, in addition to conferencing and accommodations, which is an advantage to tenants in the park. Daybridge Child Development Center also is located there, benefiting working parents.
The 331 Innovation Boulevard development comes on the heels of a commitment by new Penn State president, Eric Barron, over the summer to make State College and Central Pennsylvania a destination for business, in addition to education.
"The build-out of the new 331 building at Innovation Park fits perfectly with Penn State's renewed emphasis on economic development as described in President Eric Barron's address to the Board of Trustees at its most recent meeting," confirms Penn State Vice President of Research, Neil Sharkey. "I have every confidence that the building will become another beehive of innovative activity that will serve to further the outgrowth of Penn State's formidable intellectual capital into the Centre Region and beyond." Penn State recently added a new role to its administration, Associate Vice President for Research and Industrial Partnerships, filled by Jeffrey Fortin. Barron committed to developing a climate of entrepreneurship that supports technology transfer and business development at all Penn State campuses. The goal is to keep technology, new businesses and the superior Penn State-graduate workforce in Pennsylvania. Penn State has twenty-four campuses across Pennsylvania. Programs under discussion at Penn State include:

Offering $50,000 awards for start-up companies who win competitions based on their concept's potential for success, as judged by experts in that field
Creating a Penn State branded platform that promotes intellectual property to investors and venture capitalists, and provides specific opportunities for alumni to invest in young companies
Creating a Student Innovation Foundation where faculty members assist students with their entrepreneurial ambitions
Tuesday's groundbreaking ceremony included remarks from Pennsylvania Senator Jake Corman, Chairman and Founding Partner of GLP Development Erwin Greenberg, and Vice President for Research at Penn State Neil Sharkey. Due to uneven terrain and the threat of inclement weather, Penn State Public Broadcasting broadcast the event live for attendees to watch inside the Penn Stater Conference Center. Additionally, event attendees enjoyed a visit from the Penn State Nittany Lion mascot.
Innovation Capital Partners, led by managing partner GLP Development, currently owns Buildings 328, 329 and 330 at Innovation Park. The $17.8 million investment in Building 331 brings the company's total investment at Innovation Park to nearly $56 million in the past 3 years.
"It's exciting that our partners at Innovation Capital Partners have made such a substantial financial commitment to our Central Pennsylvania community in such a short period of time… and they're anxious to do more," said Innovation Park's Dan Leri.
GLP Development Company's Barron adds, "Dan's team does a remarkable job creating opportunities for networking and socializing and for dialing into the University's resources. Plus, they work hard to facilitate use of the park's meeting and conference space, the outdoor space and the Penn Stater fitness facility. Innovation Park is more like a community than an office park."
The Chamber of Business and Industry of Centre County (CBICC) welcomes the collaborative development efforts. "The new building will be a great addition to Innovation Park," said CBICC President and CEO Vern Squier. "It will provide valuable next stage accommodation options for Technology Center incubator companies in need of additional laboratory or office space in order to continue their growth." The CBICC says the building will be an important asset in the effort to bring new economic opportunities to Centre County because site selectors repeatedly stress that having "move-in ready" space is critical. "We applaud Innovation Park leadership and GLP Development for making a significant investment in the construction of a multi-use building that will be an important addition to the county's facilities' inventory," added Squier.
As the first LEED-certified building in Innovation Park, Building 331 will meet the U.S. Green Building Council's requirements for Silver level certification. The LEED-certification of Building 331 parallels Penn State's recent recognition for its sustainability practices. Earlier this year, Penn State received APPA's 2014 Sustainability Award, one of the top educational facilities awards in the country. APPA is the professional association of educational facilities in the United States, Canada and abroad.
The 331 Innovation Boulevard building project team includes:
Developer: GLP 331 IP LLP, GLP Development Company LLC
Lender: M&T Bank
Project Manager: CBRE, Inc.
Leasing: Newmark Grubb Knight Frank
Contractor: Poole Anderson Construction
Architect: Pfaffmann & Associates
PC Engineers: L R Kimball, RAY Engineering, Schneider Engineering LLC, Sweetland Engineering & Associates
Inspections: Hillis-Carnes Engineering Associates
Operations: Property Management, Inc.
The building is scheduled for completion in late August 2015. Parties interested in leasing space in 331 Innovation Boulevard should contact either Dan Leri at 814-865-5925 or leasing agent Tom MacDonald at 412-434-1028.