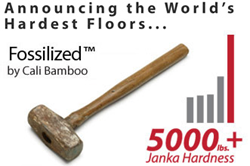 Cali Bamboo's flooring not only withstands everyday wear and tear, but is also dog-friendly, high heel safe and ultra-low VOCs.
San Diego, California (PRWEB) October 30, 2014
Cali Bamboo, the leading manufacturer of green building materials for residential and commercial projects, has announced that their Fossilized® bamboo flooring scored 5,574 lbs. on the Janka Hardness Scale, making them the hardest wood floors in the world.
The Janka Hardness test is the primary test used to measure wood's resistance to wear and dentability, determining whether or not a wood species is suitable for use in flooring. The test measures the force required to embed a 11.28mm steel ball into a piece of wood, half the diameter of the ball. The higher the amount of force needed, the higher the Janka score and the more durable the wood.
"With each product we introduce to market, our goal remains the same: to create the most sustainable, high-quality product available" says Cali Bamboo Founder and CEO, Jeff Goldberg. "With the Janka score our Fossilized® bamboo flooring received, I'm confident that we were successful in achieving that goal."
Cali Bamboo's proprietary Fossilized® process combines the technique of strand woven bamboo flooring with an unmatched 10 layers of protective coating, culminating in a flooring that not only withstands everyday wear and tear, but is also dog-friendly, high heel safe and ultra-low VOCs.
For more information on Cali Bamboo Fossilized® bamboo flooring or to request a free sample, visit http://www.calibamboo.com/ today or call toll free: 1-888-788-2254.
About Cali Bamboo
Headquartered in San Diego, Cali Bamboo manufactures green building materials made primarily of bamboo — one of the world's most durable, sustainable and renewable materials. Founded in 2004, the company has become a model of how individuals, businesses and communities can implement modern design while maintaining structural strength and environmental integrity. Cali Bamboo services residential and commercial building projects across North America with a wide range of products including bamboo flooring, fencing, composite decking, plywood, cork wall tiles, poles, paneling and more. For more information visit http://www.CaliBamboo.com.