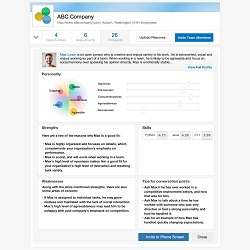 Hire the right candidate every time with Tunity
San Francisco, CA (PRWEB) October 21, 2014
Tunity, Inc. (http://www.tunity.com) announced beta sign-ups today for their technical talent sourcing application. Tunity is an exciting new product that uses information about an applicant's skills and personality to determine the most ideal candidates for an open position. Tunity accomplishes this by scoring the technical skill, personality and culture of both the applicant and existing team to help identify those who will perform the job best, enhance the team the most, and fit in with the company culture.
Companies create an account with Tunity and enter company information and existing job opportunities. They then invite team members and applicants to create accounts and to take assessments. The site provides a custom "scorecard" for prospective talent, with personality information, validated technical skill scores, organizational culture preferences, strengths & weaknesses and even potential interview topics.
"From working in the technology industry for over a decade, in both the interviewer and interviewee role, I saw that the hiring process is broken. From being hounded by non-technical recruiters motivated by a commission, to phone screens, and all-day interviews, finding the right talent for positions is exhausting and inefficient," said Kevin Davie, founder and CEO of Tunity. "I knew there had to be a better way; to utilize technical skill, personality and workplace culture assessments to streamline the hiring process and make it more efficient. Tunity brings together years of experience with technical hiring, technical skill validation and psychological research to match the right talent to the right opportunity."
Davie was an early-stage hire at Yammer, the leading enterprise social network, acquired by Microsoft for $1.2 billion in 2012. Tunity is co-founded by Dr. Brian Newton (Psy.D.) who serves as the company's Chief Science Officer.
It's estimated that the process from job listing to bringing someone in the door can take up to 40 hours of an HR person's time alone. The U.S. Department of Labor currently estimates the average cost of a bad-hiring decision is about 30% of the individual's annual salary. The average salary of a technology worker in the U.S. is around $90,000, making the average cost of a bad hire about $30,000. Tunity seeks to decrease costs by both reducing the time required to evaluate potential technical hires as well as increasing the accuracy of those hires by providing enhanced information before they arrive for a face-to-face interview. Tunity is currently seeking companies interested in participating in their upcoming beta by signing up at the company's website.
About Tunity:
Tunity (http://www.tunity.com) is a software tool created to increase the efficiency and accuracy of technical hiring by utilizing technical skill, personality and culture assessments of both talent and existing team members. Founded in 2014 in San Francisco by Kevin Davie, an early hire at Yammer (acquired by Microsoft) and Dr. Brian Newton, a Psychologist, Tunity seeks to become integrated into the hiring processes of companies with technical opportunities and to provide suggestions of ideal talent for specific positions from a vast pool of potential hires.
Resources:
Learn More
Company Blog