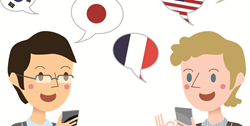 Washington, DC (PRWEB) October 21, 2014
According to Forbes, just over one-third of American's hold valid passports, which is quite low in contrast to citizens of other countries. Besides the expense of overseas travel, the inability to communicate easily might be keeping millions of people on American soil when they're really love to see, experience and taste what other countries have to offer.
There are usually very few language barriers when visiting English speaking countries such as England, Ireland, Australia, New Zealand, South Africa and Canada. Some words are pronounced differently and they have their own slang terms; but communication is relatively easy. However when people head to more remote places where English is possibly only used as a foreign language in high schools, it can be more difficult to ask for even the simplest things like a glass of water or how to get to the supermarket.
Most recently New York Times and USA Today Best Selling author, Sanjay Jain, M.D. MBA, has published a new book that provides some tips on how to better prepare for your next trip and overcome language barriers.

Tip 1 - Stick with simple wording and eliminating slang while traveling. Even in English speaking countries, certain slang terms and certain words aren't used. This means that people who've only have limited experience to the language through classes at school will not understand what it means to "hang out" at a pub and "chat."
Tip 2 – Prior to the trip, learn some key phrases such as, "Where is the restroom?", "How much does it cost?", and "How do I get to the hotel?" Having a pocket-sized book, or note pad, with the phrases written in the local script (to show the people in case they don't understand) and with the English translation beside it will aid in pre-trip studying and be a lifesaver when traveling.
Tip 3 - Learn from the comfort of home with websites like LiveMocha, an online community--with users from over 190 countries--made up of language experts, teachers, ex-pats and anyone interested in adding a new language to their repertoire. There are also numerous online programs, such as Rosetta Stone which offers language learning courses for more than two dozen languages.
Tip 4 - Download apps that include dictionaries and translation capabilities. Some highly recommended apps include: Word Lens, which offers users the ability to purchase up to six different languages for translation; iTranslate has more than 80 languages that can be translated when the mobile device is connected to the internet; and SayHi Translate which offers good quality speech-to-text translation capabilities in more than 100 languages.
Tip 5 - Finally, be patient. Unless there's an absolute emergency where someone's life is at stake, don't fret the small stuff. Look for a young person, someone who is college-age, for translation help. Many countries require English as part of the college curriculum so young people are usually able to communicate pretty well; additionally, they value the chance to practice with a native speaker. Frequent travelers find that as long as they stay calm, treat the local people with respect and try their best to communicate their needs, eventually everything works out.
For more information on travel and other tips related to maximizing your personal ROI please visit Dr. Jain's blog at http://www.sanjayjainmd.com/blog/.
About Dr. Sanjay Jain:
Sanjay Jain, M.D. MBA is a New York Times and USA Today Best Selling author, accomplished medical doctor, health expert, life coach and inspirational keynote speaker who has dedicated his life to helping people find their purpose by achieving a meaningful life that they deeply cherish.
Sanjay Jain is U.S. trained and a board certified physician with over 15 years of clinical experience. He holds certifications in Diagnostic Radiology, Integrative Medicine, and Healthcare Quality and Management. He is a graduate from the accelerated BS/MD program at The Northeast Ohio Medical University. He has diversified experience in the private practice, academic, and integrated multispecialty settings.
He was a former assistant professor at The Ohio State University where he also obtained his MBA at the Fisher School of Business. The combination of which has given him a unique voice and understanding of the many issues we face today in a real and practical sense.
Follow Sanjay on Twitter at @sanjayjainmd. His new book, Optimal Living 360: Smart Decision Making for a Balanced Life (Greenleaf) is available in stores now!