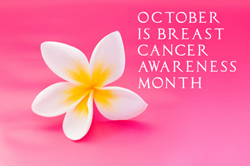 Washington, DC (PRWEB) October 21, 2014
October is considered National Breast Cancer Awareness Month. This campaign pledges to inform the public and women to be aware of the status of their health and at the same time distribute awareness and information about breast cancer. A large percentage of women usually struggle to fight the dangers of breast cancer and this is one of the main reasons why they need to get tested as soon as possible. Board certified physician, Dr. Sanjay Jain has recently provided some information on this holiday that is celebrated in the month of October.
The ultimate goal of National Breast Cancer Awareness Month is to inform women of all ages to be aware of breast cancer and on how to increase their chances to survive from this kind of disease in a form of early detection. For those individuals who want to learn and know more about breast cancer, there are a wide variety of resources that will provide them with valuable information on how to increase their survival and on how to detect breast cancer.
In line with this, National Breast Cancer Awareness Month aims to provide useful tips on how to easily detect the signs and symptoms of breast cancer in a form of regular breast check-ups, visiting their doctors for mammograms, scheduling clinical breast examinations, and most importantly practicing healthy eating habits.
National Breast Cancer Awareness Month also aims to help those women who are experiencing this disease on how to properly understand the magnitude of cancer as well as learn from others how to deal with the diagnosis.
Furthermore, women should have a firm understanding about the possible dangers and risks of breast cancer. It is vital that women know how to deal and tackle and win their own personal battles and challenges, yet know they are not alone in the fight.
Proper knowledge and understanding of breast cancer can be a great help to make sure that women are ready to face the possible consequences that are associated with breast cancer.
For more information on this and related topics please visit Dr. Sanjay Jain's website at http://www.sanjayjainmd.com/.
About Dr. Sanjay Jain:
Sanjay Jain, M.D. MBA is a New York Times and USA Today Best Selling author, accomplished medical doctor, health expert, life coach and inspirational keynote speaker who has dedicated his life to helping people find their purpose by achieving a meaningful life that they deeply cherish.
Sanjay Jain is U.S. trained and a board certified physician with over 15 years of clinical experience. He holds certifications in Diagnostic Radiology, Integrative Medicine, and Healthcare Quality and Management. He is a graduate from the accelerated BS/MD program at The Northeast Ohio Medical University. He has diversified experience in the private practice, academic, and integrated multispecialty settings.
He was a former assistant professor at The Ohio State University where he also obtained his MBA at the Fisher School of Business. The combination of which has given him a unique voice and understanding of the many issues we face today in a real and practical sense.
Follow Sanjay on Twitter at @sanjayjainmd. His new book, Optimal Living 360: Smart Decision Making for a Balanced Life (Greenleaf) is available in stores now!