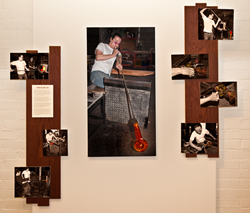 "Every once in a while great artists are able to transcend.... Sally's vision is grand... [and] ... reflected in the warmth she portrays in the people she photographs and the world she captures.
(PRWEB) October 27, 2014
In the past month, Sally Wiener Grotta has received six new arts grants in support of exhibits of her American Hands narrative portrait project, and she is shortlisted for several more. That brings the total to over 40 grants plus other honors for her photographic celebration of traditional tradespeople, such as quilters, a spinner, weaver, blacksmith, glassblower, bookbinder, rug-maker and many others.
The most recent grants include support from Berks Arts Council, Bradford County Arts Council, Greater Philadelphia Cultural Alliance, Galaxy and others.
About "American Hands"
"American Hands" is Sally Wiener Grotta's award-winning visual celebration of those individuals who keep alive the traditional crafts that built our dynamically diverse culture and established the underpinnings of our present-day society. IAlong the way, Sally spends time in a wide variety of artisans' workshops, often returning over the months and years, to follow the various stages of their creations.
Sally's easy style helps artisans warm to her camera, developing personal relationships that allow her to share in intensely private and often poignant creative moments, as well as spontaneous expressions of joy. Her narrative series of portraits capture both the fascinating craft processes and the individual personalities of the craftspersons.
To date, over 350,000 individuals have attended an "American Hands" exhibit and the project has hit a resonant chord with the public, the art world and the press. Additional exhibits of "American Hands" are scheduled through 2016, with others under discussion. Sally will also be giving lectures associated with the exhibits, visiting schools, senior citizen centers, community organizations and so forth. Eventually, it will be a book. In the meantime, there are two publications: the American Hands Newsletter and the first in a series of "American Hands Journals."
The recipient of over 40 grants and numerous other honors, "American Hands" has been adopted by the Artspire program of the New York Foundation for the Arts (one of the nation's most respected arts organizations), under their fiscal sponsorship, which makes all donations to the project tax deductible.
Sally welcomes invitations to exhibit and lecture, as well as suggestions of traditional tradespeople to consider photographing. To sign up to receive information about "American Hands" events and publications, and/or to provides suggestions or otherwise get involved, please use the Contact Form on the website.
About Sally Wiener Grotta
Photographer, digital artist, author, columnist and lecturer, all describe what Sally Wiener Grotta does. But to truly understand who she is, one must also apply the title Storyteller to her list of accomplishments and achievements. Whether it's a picture or an article, a workshop or a book, Sally's primary purpose, above and beyond communicating concepts, ideas and information, is to tell a good story that will entertain, amuse and enlighten.
"A global treasure" ~ Pat Schroeder, former U.S. Congresswoman
Recognized by xRite as "one of the world's top professional photographers," Sally has traveled on assignment all over the world, to every continent (including Antarctica several times), plus many exotic islands (such as Papua New Guinea). In addition to various "American Hands" exhibits, other collective and one-woman exhibits of Sally's work are scheduled through 2016. Her pictures have appeared in numerous exhibits, scores of national glossy magazines, many books and various ads. She has published eight non-fiction books (on photography and travel). Her fiction includes the novels "Jo Joe" and "The Winter Boy."
"Every once in awhile great artists are able to transcend.... Sally's vision is grand... [and]... reflected in the warmth she portrays, in the people she photographs and the world she captures." ~ Steven Rosenbaum, President of SIR Communications and former Editor of "Modern Photography"