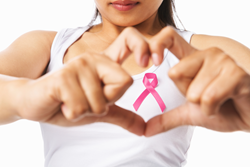 Washington, DC (PRWEB) October 21, 2014
The American Cancer Society estimates that for 2014, there are about 232,570 new cases of invasive breast cancer. About 62,570 new cases of carcinoma in situ (CIS) of the breast will be found (CIS is non-invasive and is the earliest form of breast cancer) and about 40,000 deaths from breast cancer. They state, "cancer is the most common cancer among women in the United States, other than skin cancer. It is the second leading cause of cancer death in women, after lung cancer." In light of this Board certified physician, Dr. Sanjay Jain has recently provided the following 10 facts about breast cancer:
When detected early and treated properly the survival rate is extremely high and success in treatment is almost certain.
Many sources state this cancer type is of greatest concern among cancers concerning women.
This is one of the easiest cancers to catch in its early stages with regular self examinations.
Women over the age of 40 are at an increased risk and should have regular and yearly mammograms.
Once found and diagnosed it is important to continue doctor visits and other tests to ensure the cancer does not reappear or appear in another other location within the body.
While the exact cause is not known, we do know certain things can play a significant role. Factors such as overall health, lifestyle and genetics can play and important part of breast cancer prevalence.
Men usually find this in more advanced stages when the patient finally visits the doctor. This is due to most men not being aware of the physical signs and symptoms of breast cancer therefore the time from initial symptom appearance to diagnosis takes longer. A healthy diet and lifestyle are important in lessening the risk of breast cancer.
With the help of regular self examinations and mammogram many times it can be caught in the early stages, often times prior to any physical or noticeable symptoms appearing.
Women under the age of 40 should have medical exams every few years and perform regular self-examinations.
For more information on this and related topics please visit Dr. Sanjay Jain's website at http://www.sanjayjainmd.com/.
About Dr. Sanjay Jain:
Sanjay Jain, M.D. MBA is a New York Times and USA Today Best Selling author, accomplished medical doctor, health expert, life coach and inspirational keynote speaker who has dedicated his life to helping people find their purpose by achieving a meaningful life that they deeply cherish.
Sanjay Jain is U.S. trained and a board certified physician with over 15 years of clinical experience. He holds certifications in Diagnostic Radiology, Integrative Medicine, and Healthcare Quality and Management. He is a graduate from the accelerated BS/MD program at The Northeast Ohio Medical University. He has diversified experience in the private practice, academic, and integrated multispecialty settings.
He was a former assistant professor at The Ohio State University where he also obtained his MBA at the Fisher School of Business. The combination of which has given him a unique voice and understanding of the many issues we face today in a real and practical sense.
Follow Sanjay on Twitter at @sanjayjainmd. His new book, Optimal Living 360: Smart Decision Making for a Balanced Life(Greenleaf) is available in stores now!