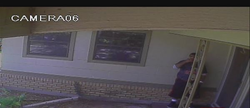 "We knew someone had broken in, but seeing it, seeing him enter our house, bust down or door, it's sick, a sickening feeling," said Vanessa Ruiz, the resident of a San Antonio neighborhood.
Atlanta, GA (PRWEB) October 21, 2014
When Vanessa Ruiz returned to her home in a San Antonio neighborhood on October 3rd, she knew something was wrong. Ruiz told KSAT ABC 12, "[I] noticed the front door was open, the curtain was sticking out and I thought someone was in the house," said Ruiz, who is seven months pregnant. She left her home and called police.
Vanessa's husband had installed several security cameras a year ago. As the couple watched the video of the intrusion, "Ruiz stated, "We knew someone had broken in, but seeing it, seeing him enter our house, bust down our door, it's sick, a sickening feeling," she said. "The funny thing is he did the sign of the cross twice before he decided to push in the door, break in the door."
Home intruders are often difficult to capture and prosecute due to the lack of evidence, but Grade 1 locks protects against entry, while security cameras placed in proper locations in and around the home can provide Police Officials with an up close and clear video of the thieves and the act itself states The Security Product Depot.
Installing your own surveillance camera system is quite easy when knowing a few simple steps. First, determine the exterior placement, which will provide the best coverage, particularly on the front and back doors, along with windows that can be entered from the ground. Placing security cameras under the porch or an overhang is best due to fluctuating weather conditions.
If you're using analog cameras, run Siamese cable, which contains both the power supply and BNC connectors to plug into the DVR, (Digital Video Recorder). Run the power line into a separately electrical outlet using pig tails and an AC Adaptor or you can purchase a power supply box where you can plug in all of the power lines.
Next, you'll attach a monitor to the DVR, providing the capability to view and replay video. Your camera supplier can provide you with details and answer any questions.
The Security Product Depot is an established online provider of physical security products and security information. They are committed to offering a broad array of the latest technology to help their clients protect their assets and property.