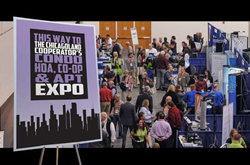 Chicago, IL (PRWEB) October 22, 2014
Need help with a landscaping issue or a pressing legal problem? The Chicagoland Cooperator's Condo, HOA, Co-op & Apt Expo is the place to be on Tuesday, Oct 28, 2014 from 10 a.m. to 4:30 p.m. More than 275 exhibitors will be at the Navy Pier in Chicago offering solutions covering every aspect of management and maintenance—and so much more. The Expo is the ideal place for condo board members, property managers, apartment building owners and managers to meet with scores of professionals offering everything from asbestos abatement to window replacement all in one place, on one information-packed day.
The Chicagoland Cooperator's Expo, now in its fourth year offers plenty of time to learn about new products and services geared to condo, HOA, co-op and rental properties. And don't forget—registration and admission to the Expo, including all seminars and advice booths is free on the expo website. Bring questions, and plan to go home with a wealth of answers and knowledge.
Who said you can't get anything for free? The Expo offers the opportunity to put pressing questions to leading attorneys and other professionals at our free advice booths. And board members can enter to win $2,500 for their association's reserve fund just by attending. Only board members qualify and attendance at the show is mandatory to win. Winners will be drawn at random after registration has closed. For complete details on how to enter the reserve fund drawing, go to http://chicagocondoexpo.com/conditions.
Tuesday, October 28, 2014 at the Navy Pier in Chicago. For more information and to register for free go to http://chicagocondoexpo.com.