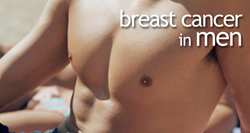 Washington, DC (PRWEB) October 21, 2014
According to the American Cancer Society in 2014, about 2,360 new cases of invasive breast cancer in men will be diagnosed and about 430 men will die from breast cancer. They state, "Breast cancer is about 100 times less common among men than among women. For men, the lifetime risk of getting breast cancer is about 1 in 1,000." In light of this Board certified physician, Dr. Sanjay Jain has recently provided the following facts about breast cancer in men.
-Most people don't realize that women aren't the only ones to be diagnosed with breast cancer. This is due to this specific cancer type occurring in less 1% of men.
-Many times breast cancer in men is overlooked or not given thought. In truth, anyone that has breast tissue is at risk. This is true of adolescents and of course men. Showing all that age, gender or size doesn't matter. Breast cancer isn't exclusive to only women.
-Due to men not being routinely checked for this type of cancer it's vital to know the risk factors and symptoms. Those who are at increased risk of developing breast cancer include:
Older males-as with any health issue, as age increase so does the risk.
Males with higher or abnormal estrogen levels are at higher risk
-It is important to note that increased breast size in both breasts is usually not cancerous or problematic. This does not mean this is reason to not visit your doctor. Enlargement of both breasts can be a sign of other serious health condition or illness.
-As with women, it is important to take notice of any changes in appearance in the breast or nipple. Any mass or lump appearing in the breast or underarm area could be reason for concern.
-Considering breast cancer in males is so rare, generally the time between the initial symptoms appearing and diagnosis is very long. This additionally leads to the disease being in further advanced stages. Earlier diagnosis could make a life saving difference.
-More awareness on the subject and more research are definitely needed on the subject in order to save the lives of men who may otherwise not realize the seriousness of their condition.
-As with any health issue, if you notice any significant changes in or near the breast or nipple you should contact your doctor immediately and arrange for a medical exam.
For more information on this and related topics please visit Dr. Sanjay Jain's website at http://www.sanjayjainmd.com/.
About Dr. Sanjay Jain:
Sanjay Jain, M.D. MBA is a New York Times and USA Today Best Selling author, accomplished medical doctor, health expert, life coach and inspirational keynote speaker who has dedicated his life to helping people find their purpose by achieving a meaningful life that they deeply cherish.
Sanjay Jain is U.S. trained and a board certified physician with over 15 years of clinical experience. He holds certifications in Diagnostic Radiology, Integrative Medicine, and Healthcare Quality and Management. He is a graduate from the accelerated BS/MD program at The Northeast Ohio Medical University. He has diversified experience in the private practice, academic, and integrated multispecialty settings.
He was a former assistant professor at The Ohio State University where he also obtained his MBA at the Fisher School of Business. The combination of which has given him a unique voice and understanding of the many issues we face today in a real and practical sense.
Follow Sanjay on Twitter at @sanjayjainmd. His new book, Optimal Living 360: Smart Decision Making for a Balanced Life (Greenleaf) is available in stores now!