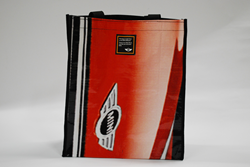 This bag is made from a real MINI billboard. There is no other like it. Just like you and each MINI
Saint Paul, MN (PRWEB) October 22, 2014
With MINI USA running its largest-ever marketing campaign in support of the 2014 MINI Cooper Hardtop, they are doing something unique and sustainable with the billboard marketing as it comes off display. With the help of Relan, a U.S. manufacturer of repurposed billboard and banner products, MINI is repurposing the ad campaign into fashionable, re-usable totes for each new MINI owner.
Following in the footsteps of the new MINI tagline, "The New MINI. The New Original" each one-of-a-kind tote will sport a label reading, "This bag is made from a real MINI billboard. There is no other like it. Just like you and each MINI."
This creative re-marketing campaign enables MINI to repurpose their billboards in a sustainable and environmentally conscious manner, while at the same time engaging the green-conscious buyer. MINI is not only reducing their own footprint, by re-using existing materials, but is also helping their customers reduce their environmental impact by using the upcycled, reusable tote. Now each of the new MINI owners will have a piece of the MINI campaign to carry with them, opening conversations about their new MINI.
About Relan
Relan, a mother-daughter, WBE certified woman-owned, small business, offers ways to repurpose and remarket your billboards and banners, recoup your media investment and reach your target market through new channels. Relan's mission is to make a difference in the community and have a significant impact on sustainability for the next generation. Relan products, created from the over 600,000 tons of marketing vinyl and fabric waste, engage employees, channel partners and consumers with the brand and the organization's commitment to future generations. Relan educates clients on the brand value of re-using their own waste stream coming from their own marketing materials and the benefits to brand loyalty and the bottom line. Relan creates products that resonate with an organization's employees, channel partners and consumers, such as soft-sided coolers, aprons and beverage totes for beverage manufacturers; and seat cushions, backpacks and pop-up tents for sporting event sponsors. All of Relan's products are manufactured in the USA.
For more information about Relan please visit: http://www.relangreen.com
About MINI USA
MINI is an independent brand of the BMW Group. In the United States, MINI USA operates as a business unit of BMW of North America, LLC, located in Woodcliff Lake, New Jersey and includes the marketing and sales organizations for the MINI brand. The MINI USA sales organization is represented in the U.S. through a network of 121 MINI passenger car dealers in 38 states. MINI USA began selling vehicles in the U.S. in 2002 with the introduction of the MINI Cooper and MINI Cooper S Hardtops. Since then, the MINI Brand in the U.S. has grown to encompass a model range of seven unique vehicles.
Journalist notes: Media information about MINI and its products is available to journalists on-line at http://www.miniusanews.com.
Consumer information about MINI products is available via the internet at: http://www.MINIUSA.com.