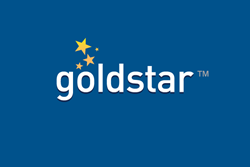 "Pittsburgh has such a vibrant and dynamic cultural scene," says Jim McCarthy, CEO, Goldstar. "Since our goal is to bridge audiences with great live entertainment events, heading to Pittsburgh is a no brainer for us."
Pittsburgh, Pa., (PRWEB) October 21, 2014
For more than four million people, Goldstar (http://www.goldstar.com) is the first place to go to find something fun to do. And now the people of Pittsburgh can get in on the fun. The company that gets everyone going out more often has set an official launch date for the Steel City: Monday, October 20.
"Pittsburgh has such a vibrant and dynamic cultural scene," says Jim McCarthy, CEO, Goldstar. "Since our goal is to bridge audiences with great live entertainment events, heading to Pittsburgh is a no brainer for us."
The free membership service dedicated solely to live entertainment tickets makes it easy to discover a wide variety of events – from theater to sports to concerts to comedy, and much more. While Goldstar typically sells tickets at a discount, they cracked the code on what really motivates people to go out more often – and it's not price. It's great selection, convenience, and ease-of-use.
Goldstar is an all-in-one live entertainment resource. At a glance, members can:

Discover events anytime, anywhere – in all major U.S. cities.
Purchase tickets easily, right from the mobile app or website.
View and manage ticket purchases.
Sort events by date, category and location.
"Star" events and venues to get emailed new offers.
Read event reviews and tips on what to wear, where to park, etc.
Customize their night out with tools like "Sit with Friends."
"From Broadway and ballet to concerts and comedy, the Pittsburgh Cultural Trust offers something for everyone. We are excited that Goldstar has expanded service to Pittsburgh to help us promote live entertainment to the broadest possible audience and make the arts more accessible for all," says Marc Fleming, Vice President of Marketing and Communications for the Pittsburgh Cultural Trust.
Goldstar is partnering with several Pittsburgh-area venues, producers, promoters and performing arts centers to sell tickets to their events. Organizations already onboard include Pittsburgh Cultural Trust, Pittsburgh Public Theater, Pittsburgh Improv, Manchester Craftsmen's Guild Jazz with more to come. They join Goldstar's network of 5,000+ venue partners across the U.S. who've used Goldstar to connect to new audiences, sell out more shows and increase overall revenue. Goldstar's venue partners receive 95% of the revenue on each ticket sold. (Purchasers pay a small service fee to Goldstar when they buy.) These partners are also getting new audiences in seats that would otherwise be empty.
Native Pittsburgher Elliot Steingart is Senior Venue Relations Manager, New Market Development for Goldstar notes that about Goldstar has had more than 10,000 members based in Pittsburgh. "I literally grew up in Mr. Roger's Neighborhood," says Steingart. "It's exciting that Goldstar can enrich Pittsburgh's already high quality of life by making live entertainment more accessible."
About Goldstar
Since 2002, Goldstar (http://www.goldstar.com) has been making live entertainment a part of everyday life for more than four million members. The company is headquartered in Pasadena, Calif., with offices in San Francisco and Portland, Ore. Additional information on Goldstar can be found at http://www.goldstar.com/company and http://www.goldstar.com/company/press_room.