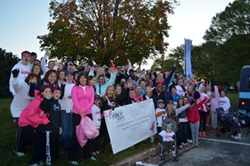 "My mother and first cousin are breast cancer survivors," says Dr. Kim Roberts, Head of Garrison Forest School. "As a girls' school, it is vital that we support this cause."
Owings Mills, Maryland (PRWEB) October 22, 2014
1 in 8. That's the number of women who will be diagnosed with breast cancer at some time during her life, experts estimate.
Garrison Forest School, an all-girls' K-12 school with a coed preschool, has been working hard for 17 years to change this startling fact. Since 1997, the school as "Team GFS" fields one of the largest school teams at the Hunt Valley, Md. Susan G. Komen Race for the Cure. Since 2012, Team GFS has had the largest team of any school in the Baltimore region--and is poised to nab that title for the 2014 Race on Sunday, October 26.
To date, 300-plus Garrison Forest students, alumnae, parents, faculty, staff and friends have signed up to run, walk or "sleep in" for a cure on October 26. Though Garrison Forest has long participated in a variety of community service programs, Team GFS is the school's only community service event touching each of GFS's four divisions from Preschool through Upper School. The 2014 Team GFS goal is to raise $18,000 for the Susan G. Komen Foundation.
Garrison Forest uses October Breast Cancer Awareness Month to educate girls in age-appropriate ways about breast cancer and why Team GFS participates in the Komen event. Organized by the GFS Parent Association, the month offers opportunities for everyone in the school community to get involved.
Team GFS members include student breast cancer advocates Kristine Hilbert, sophomore, and Gabi Sorrentino, junior. Kristine is a top youth fundraiser for the Susan G. Komen Foundation for the past seven years and Pink Honor Roll member. Her passion for this cause began when her grandfather, a survivor, was diagnosed with breast cancer. Gabi is the first-ever youth member of the volunteer medical team for a Susan G. Komen Race for the Cure three-day event. Gabi, along with her dad, Dr. Mark Sorrentino, and 30+ other clinicians, has volunteered since 2012 on the medical team for the three-day, 60-mile Washington, D.C. Komen event.
Dr. Kim Roberts, the new Head of Garrison Forest, is leading a "Run with Roberts" effort for GFS community members in the Komen event's 5K fun run, running in honor of her mother and cousin who are breast cancer survivors. Prior to race day, she will lead over 100 GFS students, parents and faculty in a one-mile run through campus on Wednesday, October 22 at 4 p.m. (Turf field start).
Members of the Upper School's chamber choir will perform the National Anthem to start the Race on October 26, the second year in a row for the choir to have this honor.
October 22 is Pink and Denim Day at GFS with all GFS students and faculty/staff (Preschool through 12th) showing their pink pride. That morning, from 8:30 a.m. to 9:30 a.m., parent volunteers adorn "Tree of Hope" on campus with hundreds of yards of pink ribbons upon which the GFS community write messages of hope, courage or remembrance.
Every GFS Middle School and Upper School team is wearing pink athletic gear during October. All Lower School girls received pink shoelaces to show their support.
The 5th Grade has adopted breast cancer awareness as its yearlong service project. They are making awareness announcements in the Lower School Morning Meeting, creating a "Quilt of Hope"—handmade posters about breast cancer for use on Race Day—and leading the Lower School in the "Change for a Cure" coin drive. All Kindergarten through 12th Grade students are participating in the coin drive, which raised nearly $1,000 last year.
On race day, Team GFS will have a tent in the tent village at the corner of Shawan and McCormick Roads. For photos and detailed news about Team GFS, visit http://www.gfs.org/raceforthecure.
Media inquiries: For interviews before or during race day, contact Sarah Achenbach, Garrison Forest School Director of Communications, 443-744-0725 cell, 410-559-3179 office, sarahachenbach(at)gfs(dot)org