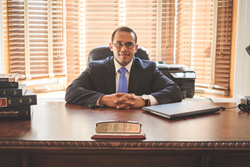 In any type of contract, each party needs to be educated on the implications of current law, this in turn, will allow for strategic decision making.
Clifton, NJ (PRWEB) October 22, 2014
Peter G. Aziz Esq. of the Law Offices of Peter G. Aziz & Associates LLC, points to a recent New Jersey state law (N.J.S.A. 46A:15-2), which serves as an exception to the grounds for eviction from rental premises as outlined in the current Anti-Eviction Act. The main point of his observations in this regard is to prevent assumptions, either on the part of landlords or tenants, which may unnecessarily complicate a lease agreement.
The North Jersey based firm is a general practice firm that focuses its practice on Real Estate and Landlord Tenant law. In addition, the firm specializes in Franchise Law as well.
Attorney Peter G. Aziz states, "It is important for both landlords and tenants to understand the implications of new laws or clarifications of existing laws. That is where I come into play. In any type of contract, each party needs to be educated on the implications of current law, this in turn, will allow for strategic decision making"
The general purpose of the Anti-Eviction Act is to address the "critical shortage" of rental housing space in New Jersey by ensuring that tenants may continue to live in the rented dwelling even if their current lease is expired. They must of course, continue to pay rent, and the landlord must have no statutory cause for eviction under the Act. Many landlords are under the assumption that just because the tenants lease expired, they no longer have the right to remain living in the rented dwelling. This assumption is false and may lead to legal ramifications in the event the landlord takes action to evict a tenant.
However, the more recent provision 46A:15-2 specifies the type of rental premises to which the provisions of the Act do NOT apply. Specifically, if the rental premises are owner-occupied, comprising no more than two residential rental units or residential premises occupied by developmentally disabled members of an owner's family, they are considered to be exempt. Tenants in these premises do not have the identical protections against eviction as those in premises covered by the Act.
It is important to note the usual grounds for eviction in New Jersey. The most common of course is failure to pay rent, which Mr.Aziz states is "the leading cause of eviction suits in the State of New Jersey." However, a landlord may evict a tenant on other grounds such as destruction of peace or quiet enjoyment by the tenant, the owner seeks to move into the dwelling, the tenant has been convicted or plead guilty to an offense under the "Comprehensive Drug Reform Act of 1987", in addition to other grounds under N.J.S.A. 2A:18-61.1.
In short, before taking steps to either evict a tenant or oppose an eviction, consult an attorney experienced in landlord-tenant issues. In this regard, you may visit http://www.pgaalaw.com, or contact Peter G. Aziz, Esq directly at 201-562-6202 or pgaalaw(at)gmail(dot)com.