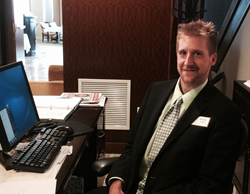 "I help to secure tickets, make reservations, coordinate outings, arrange for use of the Town car, order a limo; whatever residents need."
(PRWEB) October 21, 2014
Michael Kwyer is in the enviable position of loving everything about his job. He became concierge at The Clare already smitten with the location. In the heart of Chicago's Gold Coast, The Clare, which is a luxury high-rise retirement community, is just steps away from the countless extraordinary amenities that Chicago has to offer. Now several months into his job, Michael is equally enamored by the residents for whom he works, and his fellow staff members. "This is an incredible place and I love it. I don't ever want to miss a day being here," he said. Recent duties include helping residents plan their upcoming holiday activities around the city.
Michael was drawn to being a concierge, largely because of his love of being in the center of everything. "I so love the city," he said. His work at The Clare primarily involves helping residents take advantage of its proximity to the symphony, theater, and opera, music at Grant and Millennium Parks and exhibits at the various museums. "I help to secure tickets, make reservations, coordinate outings, arrange for use of the Town car, order a limo; whatever residents need," he said. Because Michael personally loves to go out to different shows and events, his job presents a perfect opportunity for him to share his favorite experiences with the residents.
Because he's very knowledgeable about the city, Michael said that he's not surprised by the abundance of amenities afforded the residents of The Clare.
What does amaze and delight him however, is the level of interest on the part of the residents. "People might worry about having to give up their interests and hobbies when they move into a retirement community," Kwyer said. "That's not at all the case at The Clare. The residents are so active and engaged. They're always on the go. They are out supporting the arts, the shops, the restaurants and the museums. And being in The Clare's location, makes their access to these activities so easy. Some residents are still working, many volunteer. Everyone is going somewhere or doing something."
About The Clare:
The Clare at Rush and Pearson is a Life Care retirement community in the heart of Chicago's Gold Coast with incomparable lifestyle, amenities and the financial stability only a debt-free community can offer. The Terraces at The Clare, which partners with Northwestern Memorial Hospital, provides assisted living, memory support, rehabilitation and skilled nursing. The Terraces has earned the 5-star quality rating by the Centers for Medicare and Medicaid Services. The Clare is owned by Chicago Senior Care and managed by Life Care Services. For more information visit: http://www.TheClare.com or call 312-784-8100.