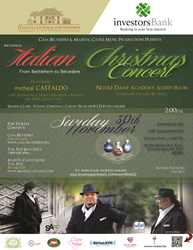 "This concert will capture your heart and imagination with the spirit of the holidays and the Old World charm of a traditional Italian Christmas," said Gina Biancardi, founder of Casa Belvedere.
Staten Island, NY (PRWEB) October 21, 2014
"From Bethlehem to Belvedere," a traditional Christmas concert featuring award-winning Italian tenor Micheal Castaldo and benefitting Casa Belvedere, will kick-off the Staten Island holiday season on Sunday, Nov. 30 at 2 p.m. at Notre Dame Academy, 78-134 Howard Ave. Castaldo will perform classic Christmas carols from his best-selling album, "Extravergine: Christmas in the Mediterranean," accompanied by the Richmond County Orchestra Strings and by the Notre Dame Academy Choir. Tickets are available for $25 for general seating and $75 for VIP seating and reception including Italian Christmas-themed food, treats and Pozone Vodka holiday cocktails, at http://www.brownpapertickets.com/event/884432, or by calling Brown Paper Tickets' 24/7 event concierges at 800-838-3006.
"This concert will capture your heart and imagination with the spirit of the holidays and the Old World charm of a traditional Italian Christmas," said Gina Biancardi, founder of Casa Belvedere, which has preserved Old World traditions for years of families who have celebrated there since the Italian Cultural Foundation was founded in 2009. "Even those who don't speak Italian will be moved by the setting, the songs, and by Micheal's powerful and melodic voice."
Live performance of songs from Castaldo's chart-topping CD will include "Oh Santa Notte" (Oh Holy Night), "E Nato Il Bambino Gesu" (What Child Is This?), "Batte Nel Cuore, Suona Natale" (Little Drummer Boy), "Gioia Nel Mondo" (Joy To The World), "Puoi Sentire Quel' Che Sent Io?" (Do You Hear What I Hear?), and "Astro Del Ciel" (Silent Night). Castaldo translated the well-known Polish carol, "Jezus Malusuenki" now entitled, "Piccolo Jesu," which will also be featured along with "Gloria in Excelsis Deo," "Tu Scendi Dalle Stelle," "VA PENSIERO," and "Adeste Fideles."
Investors Bank and Brown Paper Tickets are partnering with Micheal Castaldo and Casa Belvedere to help promote the Italian culture and heritage at this Italian Christmas concert. This program is also supported, in part, by public funds from the NYC Dept. of Cultural Affairs in partnership with the City Council.
Tickets are also available in-person through the following ticketing partners: the Coccia Foundation, UNICO, Sempre Avanti, St. Brigids Italian Club, St. Rocco's, Italian American Museum, Italian Board of Guardians, Italian American Labor Council, The Gables Historic Inn and Restaurant, St. John's University, Coqui Designs, WHY, and Woodpecker Press.
Refreshments during intermission for all attendees will be donated by The Italian Cultural Foundation at Casa Belvedere. For more information, go to http://www.michealCASTALDO.com, contact Majestic Castle Music at 877-642-7271 or at majesticcastlemusic(at)yahoo(dot)com
EDITOR'S NOTE: Telephone interviews and in-studio performances with Micheal Castaldo, and copies of his CD are available, as well as high resolutions photos upon request, by calling Vivian Fox at 718-273-7660 or at info(at)casa-belvedere(dot)org.
About Micheal Castaldo: Over the past 10 years, Michéal Castaldo has entertained more than 500,000 people across the USA, Canada, and Europe with creative and rousing renditions of classic Italian songs. "Castaldo's performances are enchanting, heartfelt, and authentic. He treats the audience to stories in between songs that share moments from his Italian upbringing, tidbits about his musical journey, and insight that went into his song choices. In 2013, Michéal's 1st annual Italian Christmas concert helped raise $3,100 for St. Lucy's Church in Newark, NJ.
Richmond County Orchestra Strings is Staten Island's premiere professional home-grown symphony orchestra (65-85 members strong). The Richmond County Orchestra has served greater SI for over 7 years with 10-20 performances per season! This includes its annual great performance series, the Maestro Speaks series and Classic's for Kids' series, all open to the public at modest admission and FREE for Children. Under Maestro Alan Aurelia the orchestra has gained national attention and has been able to attract world class musicians, soloists, celebrities, and combine them with local musicians, singers, composers, visual artists, poets, and dancers creating diverse, dynamic multi-media concert events.
The Italian Cultural Foundation at Casa Belvedere is a unique 2.75 acre Arts and Cultural campus on Staten Island's Grymes Hill. The site boasts spectacular views of the Verrazano-Narrows Bridge and the New York City Harbor. The foundation is a registered 501(c3) nonprofit organization that seeks to preserve, promote, and celebrate the rich heritage of Italy by encouraging an appreciation of the Italian language, arts, cuisine, literature, history, fashion, and commerce through various educational programs, exhibits, and events. Proceeds from all facets of this fundraiser will benefit the "Preserving the Past, Enriching the Future" Capital Campaign as well as the Foundation's numerous arts, culture and educational programs. For more Info: http://www.casa-belvedere.org
The NDA Choir is a middle school choir (approximately 25 girls in grades 6, 7, and 8). They will be singing a few Christmas carols, one of them accompanied by the bell choir. The sacred mission of Notre Dame Academy is the education of girls and young women from Pre-K to Grade 12. They believe that their commitment to a tradition of liberating education creates the space where each student has every opportunity to maximize her potential, investigate and express her gifts, and where each teacher cultivates the best in each girl. They celebrate the uniqueness that each person brings to their campus. For more info: http://www.notredameacademy.org/
Brown Paper Tickets is the socially conscious global leader in online ticketing and event registration services, helping people in 68 countries plan, promote and sell out events. As a social innovator, the company donates 5 percent of profits to charity with every ticket sold, supports a team of full-time community advocates, called "Doers," and still charges the lowest fee for ticketing and services in the ticketing industry. In 2014, Brown Paper Tickets was rated #1 for ticketing and event registration by http://www.FindTheBest.com, and #1 in customer service for the performing arts by Bay Area Dance Watch. The company will open its newest office in New York, N.Y. this summer. To learn more about the world's only Not-Just-For-Profit ticketing company, visit http://community.brownpapertickets.com/press/.