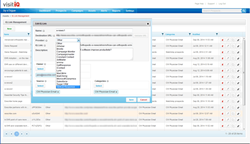 VisitIQ allows marketers to track anonymous web visitors and convert them to known prospects, with full, individual digital biographies and the ability to alert sales with real-time information
San Jose, Calif. (PRWEB) October 21, 2014
– eTrigue® Corporation (http://www.visitiq.com), the ease-of-use leader in cloud-based marketing automation, announced the expansion of the VisitIQ ecosystem to include built-in support for additional email service providers (ESP) in the VisitIQ IQ Link builder. These added providers include Bronto, dotmailer, Emma, Mad Mimi, VerticalResponse joining Mailchimp, Constant Contact and many others.
VisitIQ provides marketers with cost-effective capability to target prospects more effectively by creating meaningful digital biographies of individual prospects. Marketers add VisitIQ-generated IQ links to email messages that are sent via the email marketing platforms they are using today. When email messages are acted upon by a prospect, VisitIQ automatically ties the prospects web activity and actions to the individual prospect's digital biography. VisitIQ tracks page visits, duration on individual pages, document downloads, Google AdWords responses, and webinar attendance for Cisco WebEx and Citrix GoToWebinar.
Real-time email alerts can be automatically triggered to notify sales of specific website visitors so that they can engage quickly, and focus their time on active opportunities that may more quickly result in sales.
"In today's world, our customers interact with their prospects through a variety of channels. VisitIQ allows marketers to track anonymous web visitors and convert them to known prospects, with full, individual digital biographies and the ability to alert sales with real-time information," said Jim Meyer, VP and general manager of eTrigue. "We've enabled our customers to gain detailed intelligence about their prospects while continuing to use the email solutions they rely on."
Email service providers currently supported via VisitIQ's built-in IQ link builder include:

AWeber
Bronto
Campaign Monitor
Campaignmaster
Constant Contact
dotmailer
Emma
GetResponse
iContact
Lyris
Mad Mimi
MailChimp
Microsoft Dynamics
Microsoft Outlook
Salesforce
Sugar CRM
VerticalResponse
A 14-day free trial of VisitIQ is available at the VisitIQ subscription page.
Key features of VisitIQ include:
Anonymous Visitor Tracking: Most website traffic is anonymous. VisitIQ identifies companies, geographies, and records every visitor's individual web activity from their very first visit to your web site.
Prospect Activity Tracking: Once a VisitIQ link is clicked in an email, prospect activity tracking lets you listen to your prospect's actions by monitoring web page views, time on page, webinar participation, Google AdWords clicks, and more.
Real-Time Lead Alerts: Real-time Lead Alerts deliver a detailed prospect snapshot via email to any user so you'll know when your company is top-of-mind.
Google AdWords and Search Terms: Get insight into which Google AdWords clicks result in qualified leads, opportunities, and new customers.
Webinar Marketing: VisitIQ automatically synchronizes registration information and timed attendance data event data with the two most popular webcast providers: Cisco WebEx and Citrix GoToWebinar.
About eTrigue Corporation
eTrigue is a leading provider of marketing SaaS products that accelerate the way marketing and sales teams generate qualified leads and close sales. The eTrigue DemandCenter marketing automation platform is consistently rated as easiest to use. eTrigue products helps marketers build more successful demand generation programs that give sales and marketing teams the real-time sales intelligence they need to identify, prioritize and effectively interact with prospective customers. For more information please visit http://www.visitIQ.com or http://www.etrigue.com or call 1-800-858-8500.
VisitIQ, eTrigue, and other marks are trademarks and/or registered trademarks of eTrigue Corp. All other trademarks are the property of their respective owners.