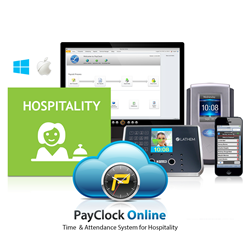 With PayClock Online, I can view labor hours and process payroll for the 80 employees at all six locations without having to be at each hotel. It makes it easy." -- Allen Gingrich of Stablegold Hospitality
Atlanta, GA (PRWEB) October 21, 2014
Hotels and real estate investment companies across the country are selecting Lathem's PayClock® Online to manage employee time and attendance, increasing workforce efficiency and significantly reducing payroll processing time.
Holiday Inn Express, Four Points by Sheraton, Stablegold Hospitality and Lyons Twin Mansions are among Lathem's customers in the hospitality industry that benefit from the cloud-based employee time and attendance solution.
Stablegold Hospitality District Manager Allen Gingrich uses PayClock Online to access employee time records and to process payroll anytime, anywhere, eliminating the need to visit each property to manage employee time and attendance data for each location.
"With PayClock Online, I can view labor hours and process payroll for the 80 employees at all six locations without having to be at each hotel," Gingrich explained. "It makes it easy."
Sam Patel, general manager and owner of Four Points by Sheraton Jacksonville Baymeadows, said the remote access is the No. 1 reason he chose PayClock Online. The solution gives him peace of mind.
"PayClock Online is a safety net," said Patel. "Before PayClock Online, if our server would go down, we didn't have any time records and I would sometimes lose the reports. With PayClock Online, everything is backed up in the cloud. It's given me peace of mind."
PayClock Online meets the 24/7 workforce demands of hotels. General Manager Michael Vassell of Holiday Inn Express in Tavares, Fla., juggles multiple properties and his employees work various shifts around the clock. Regardless of where he's located, with PayClock Online, he can access employee time records and information any time, day or night, and make changes immediately.
PayClock Online empowers employees, too, while relieving some of the workload from managers. They can choose to grant employees access to view their time and attendance information without being able to edit the entries. This means managers no longer have to spend extra time in their day to answer requests from employees to see updated time and PTO records.
"Employees love it," Vassell said. "The system tells them how many hours they've accumulated to date, and if there's a discrepancy, it can be resolved early. All sides are happy. It's perfect for what I need."
PayClock Online benefits for the hospitality industry include:

Anytime, anywhere access, making it easy to manage time and attendance and process payroll for multiple properties.
Reduction in payroll processing time.
Ability to edit time records in advance instead of all on payroll day. Make changes, resolve issues and integrate data into the payroll system, reducing payroll day stress and optimizing office operations.
Ability to share payroll duties with assistant GMs or other hotel administrators, since the cloud keeps all time entries and payroll records in real-time. When one member of the management team makes a change to an employee time record, others can immediately see that change, whether they are in the next office or another city.
Option to allow employees to use a time clock or a computer, tablet or mobile phone to clock in and out and review their worked hours anytime via the web. This real-time access empowers the team to take responsibility for their time entries and get erroneous entries corrected immediately.
"PayClock Online makes perfect sense for the hospitality industry," said Lance Whipple, Lathem vice president, Sales and Marketing. "Organizations with multiple locations will see a marked increase in payroll processing efficiency with our cloud-based system. Remote access enables managers to manage time and attendance when it's convenient for them. Data from all their properties is integrated seamlessly and updated in real-time." He added, "Hoteliers can rest easy, knowing they're using PayClock Online to manage their employees' time, so they can focus on delivering an excellent customer service experience to their guests."
About PayClock Online
PayClock Online is a cloud-based solution that enables businesses to manage time and attendance anytime, anywhere with an Internet connection. This web-based employee timekeeping system allows managers to quickly process payroll on their own time, when it is most convenient for them. Mobile functionality lets managers track remote employees' hours or administer payroll from their own mobile devices. It's easy to set up employees to clock in and out from their computers, mobile devices, or even Lathem time clocks, and enable them to view their own time records and paid time off information on the web without supervisor assistance. PayClock Online integrates with popular payroll software systems like QuickBooks, Paychex, ADP and more.
About Lathem
Headquartered in Atlanta, Georgia, Lathem is the leading provider of durable and affordable timekeeping products for business. Founded in 1919, Lathem remains a family-owned and operated US manufacturer. More than 1 million organizations worldwide use a Lathem solution every day to help manage their business, including Lathem's PayClock Online cloud-based time and attendance systems, wall clocks, and biometric and mechanical time clocks.
In celebration of its 95th anniversary, Lathem has launched a year-long sales event that makes it easier for businesses to upgrade to the latest technology in employee time and attendance management to improve productivity and streamline the payroll process.