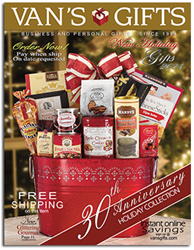 "Our gifts are more than a onetime present, they are lifetime treasures!" -Reva Colover"
Long Beach, CA (PRWEB) October 21, 2014
What makes every gift basket so unique and desirable? The heart and soul that goes into the design process. Each gift is designed with after-use in mind; Reva Colover travels all over the World in search of beautiful things to surround us and to keep. Each container has its own unique after-use from their signature copper cookie tin, hand woven baskets, beautifully polished iron wine caddies, vintage travel trunks to their glittering tins that can be used as gorgeous holiday center pieces.
Joining Van's Gifts in a toast to celebrate 30 fabulous years of gifting, Today Show host and Emmy award winner Kathie Lee Gifford partners with Van's Gifts to create the All New "Gifft" collection. Stop by the Van's Gifts website to watch Kathie Lee & Reva bring life to the "Gifft" baskets and experience the heart and soul that go into the creative process. Reva's longstanding philosophy echoes in the gifts she creates: "We want every gift to evoke emotion… Our gifts are more than a onetime present, they are lifetime treasures!"
Van's Gifts is also "Sharing the Happiness" with Coca-Cola in this 30th anniversary holiday season! Coca-Cola's "Classic" appeal combined with Van's Gifts' vast experience in designing exclusive and beautiful gift baskets have created an iconic collection for everyday gifting – from the coolest birthday gift baskets to festive and collectible Christmas and Holiday Gift Baskets.
Van's Gifts is located in Long Beach, CA and is the leader in unique and delicious gift baskets specializing in fine wines, gourmet food using only World-class brands. Voted #1 by The Wall Street Journal for gift after-use, it's easy to order with Van's Gifts catalog, or by simply calling (800) 822-7538 or visit http://www.vansgifts.com for a user-friendly experience together with live chat. At Van's Gifts you will enjoy the full service of products and customer care that has been the company trademark for 30 years and going.