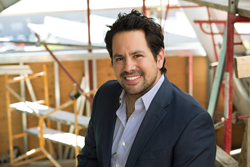 Los Angeles, CA (PRWEB) October 21, 2014
Omelet (omeletla.com), an LA-based branding, marketing and entertainment company, announced that Mike Wallen has been appointed to the newly created position of Chief Content Officer. Wallen, who has been serving as Partner and EVP, Content & Development will continue to oversee Omelet Studio, the company's branded content division, which is currently working with roster clients like Microsoft and AT&T, while also producing "License to Operate," Omelet's first feature-length film which follows ex-LA gang leaders turned street saviors.
"Since joining Omelet nearly four years ago, Mike has proven through integrated Microsoft campaigns, a full-length documentary film, and even a branded content series, that his creative innovation can be applied to any situation," said Don Kurz, Omelet's Chairman and CEO. "More importantly, he isn't just one of Omelet's secret weapons, he's also an integral part of our family and we're looking forward to his continued success at our company."
Since joining Omelet in 2011, Wallen has brought in marquee clients including Walmart and Red Bull, as well as developed Omelet Studio into a full-fledged content division. Under his leadership, the company recently began development on its second feature-length documentary and in his new role, he'll continue to shape the future of Omelet-created branded content while also playing an important part in the creation and publication of "Wake Up," the company's strategic quarterly magazine.
A graduate of Art Center, Mike has co-created and written several animated comedies with networks that include Adult Swim, 20th Television and Spike TV. Prior to joining Omelet, Wallen was head of Fox Mobile Studios, a unit of NewsCorp, where he developed and produced original and licensed content that was tailored specifically for mobile and online distribution worldwide.
"Since joining Omelet in early 2011, we've grown from a small agency to a formidable force in the converging worlds of marketing, entertainment, media and technology. In that time, we've added clients like Microsoft, Coca-Cola and Moët & Chandon to the roster and produced work I'm both excited and proud to show to the world," said Wallen. "If we've done all of that in just under four years, I can't wait to see what the future will hold."
About Omelet:
Omelet is an LA-based branding, marketing and entertainment company, that creates integrated campaigns for some of the world's largest brands, including AT&T, Coca-Cola, Microsoft and Moët & Chandon. The company also has divisions including Omelet Studio, Omelet To Go, and Omelet Brands to create original brand programming, live interactive experiences and original owned intellectual property.
http://www.omeletla.com
Contact:
Devin Desjarlais
Omelet PR Manager
devin[dot]desjarlais[at]omeletla.com
424-672-8606