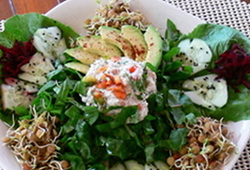 (PRWEB) November 18, 2014
WaterFall Villas is a wellness eco resort that takes vacationing in a tropical locale to a whole new level, and shows visitors exactly what one can expect on a vacation to Costa Rica while at this ultra luxurious wellness eco-retreat and vacation resort. Imagine enjoying a lavish, tropical vacation tucked away in a remote and breathtaking rainforest, lush with vegetation, amazing wildlife, adventure, and all of the incredible beauty nature can offer, and then visit: http://www.waterfallvillas.com, where the picture is clearly painted.
Thinking of trying something new, like zip lining, yoga, meditation, or a beginning a healthier way of living through your diet? Visitors can peruse through a variety of packages and retreats offered here, learn all about this region of Costa Rica, and view the gallery of incredible photos that demonstrate why so many visit Costa Rica again and again. The newly redesigned website gives visitors the ability to customize any package to accommodate their personal preferences, with a myriad of options to choose from, including a gourmet Vegetarian Costa Rica retreat, as well as the Vegan and Raw Food retreat. These retreats also include cooking classes for guests to learn how to maintain the lifestyle at home.
Waterfall Villas' newly revised website and informative blog will attract future visitors who want to 'get their feet wet' by learning about Costa Rica before committing to traveling here. This is part of what makes http://www.waterfallvillas.com a traveler's dream. Exceptionally user friendly, this website details everything Costa Rica and Waterfall Villas has to offer, from the Vegetarian Costa Rica retreat, to adventure tours, nature hikes, and the exploration of parks and beaches. Interested traveler's are always invited to call (506) 2-787-4137, to speak with the owners of WaterFall Villas, Fateh and Franco, who can share information about the special Vegetarian Costa Rica retreat, as well as tell all about the wonders of Costa Rica, and even help visitors make travel arrangements.
Vegetarian Costa Rica Retreats are supported by locally and organically grown crops that are harvested fresh for you.
Waterfall Villas' new blog offers insight into the South Pacific region of Costa Rica, and how its topography fosters the growth of the many tropical fruits and nutritious vegetables that are grown here organically, and then harvested and brought right to your table. Going vegetarian in Costa Rica is easy and affordable here.
WaterFall Villas Wellness Retreat's new blog also offers an education in sustainability.
Those interested in booking a Vegetarian Costa Rica retreat, or another Costa Rica vacation will appreciate the lesson in eco-tourism and sustainability on WaterFall Villas' website. It is becoming common knowledge that Costa Rica is an ecotourism destination that is really a model for making a difference in the world. Visit: http://www.waterfallvillas.com/about-us/eco-tourism and learn about the 6 primary biologically diverse regions, which are also completely individual habitats of Costa Rica, and are yours to discover when you visit. WaterFall Villas shares the importance of ecological preservation and conservation, and also details how the WaterFall Villas resort was designed, using the greenest methods and environmentally friendly practices, which Franco and Fateh are still committed to today. Learn more before making your travel arrangements: http://www.waterfallvillas.com.