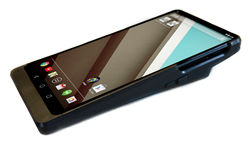 The technology can be quickly adapted to new devices.
Harmony, PA (PRWEB) October 22, 2014
SDG Systems announced today the Diamondback™ N7 scanner, a barcode scanning sled for the Google Nexus 7 (2013) tablet. The Diamondback scanner is a lightweight, rugged "sled" containing a Motorola SE4750 1D/2D scanning engine, hand straps, scan and illumination buttons, and a magnetic mount with wireless (Qi) charging. Named after the diamondback terrapin, the scanner has a hard, durable shell encasing the sophisticated 2D CMOS imaging scanner, which features a laser aimer.
The Diamondback N7 scanner uses SDG Systems' recently announced Enterprise Platform Extension Framework for barcode scanning, EPX-B. EPX-B is a full-featured, modular, barcode software package for Android. It includes a developer SDK that fully supports the functionality of the Motorola scan engine. In addition to supporting the Diamondback sled, EPX-B supports camera and USB scanning from a single, extensible application programming interface (API).
SDG Systems' CEO, Todd Blumer, addressed the rapidly changing device market. "We recognize that the Nexus 7 tablet availability may be limited in the coming months. The Diamondback N7 scanner is geared toward either rapid deployment, or as a proof of concept for companies to evaluate the solution for other Android phones or tablets. The technology can be quickly adapted to new devices. The low cost and performance of consumer phones and tablets makes the solution a good alternative to fully ruggedized Android devices in some circumstances."
SDG Systems also announced that Cassens Transport is in the process of deploying Diamondback N7 scanners for use in its vehicle delivery fleet. Cassens expects to deploy 1200 scanners by early 2015. SDG Systems assisted Cassens Transport in the development of the scanning sled and AutoTran delivery application, which utilizes the EPX-B API. A case study of the implementation is available at SDG's website. SDG Systems offers software development services that cover a broad range of technologies, including Android porting, application development and web services.
The Diamondback N7 Scanner has a retail price of $549, and includes a Nexus wireless charger model A010. The Nexus wireless charger is required for charging the tablet, and integrates into an AMPS-compatible mount. The Motorola scanner and other electronics have a one year warranty. Samples are available today for evaluation. Reseller inquiries are welcome.
About SDG Systems
SDG Systems delivers innovative, customizable, Android and Linux solutions, specializing in rugged and mobile computers. SDG provides superior technical support, software customizations, and complete solutions. SDG is a leader in the implementation of Google Android solutions on rugged and embedded devices since 2009 and has been developing and supporting Linux system software since 2001.