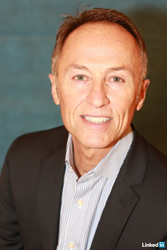 Tampa, Florida (PRWEB) October 21, 2014
On Friday, October 17th, Joe Lamphier, Group Vice President Sales & Marketing for Crown Automotive Group, received the prestigious Ted Williams award, an honor created to recognize individuals whose love of the great outdoors is only surpassed by their commitment to making a difference in the community. This award was given during the 17th Annual Yerrid Foundation Grand Slam Fishing Tournament presented by Bonefish Grill, a weekend-long event raising funds and awareness for the Pediatric Cancer Foundation (PCF).
In honor of the accomplishments Ted Williams made beyond the baseball diamond and in the lives of children, the Pediatric Cancer Foundation bestows this award to individuals who embody that spirit and continue to make a significant impact on the community.
Joe Lamphier encompasses what the Ted Williams award represents. Lamphier joined PCF over 20 years ago and has participated on the Grand Slam Committee since the very beginning. He currently serves on PCF's Board of Directors and he has a passion for the outdoors and great adventures through cycling. He has a deep personal connection to pediatric cancer, which has made his commitment to the cause so enduring.
"Joe Lamphier is dedicated to finding a cure for childhood cancers. He is truly deserving of the Ted Williams Award. The Pediatric Cancer Foundation would like to recognize and thank Joe for his strong support, guidance, and vision over the last 20 years," said Nancy Crane, Executive Director of PCF.
Lamphier is among a prestigious group of recipients over the award's 17 year history. Past recipients include:
1998 – Curt Gowdy
1999 – Steve Yerrid
2000 – Dr. Cameron Tebbi
2001 – Frank Sargeant
2002 – Wade Boggs
2003 – Stu Apte
2004 – John Havlicek
2005 – Chuck LaMar
2006 – Brad Richards
2007 – Bill Miller
2008 – John Tortorella
2009 – Steve Stanley
2010 – Melissa Helms
2011 – Vincent Lecavalier
2012 – Wade Davis
2012 – Joe Maddon
2013 – Jeremy Persinger
2014 – Joe Lamphier
About the Pediatric Cancer Foundation:
With its national headquarters in Tampa, the Pediatric Cancer Foundation is a nonprofit organization dedicated to funding research to eliminate childhood cancer through the Sunshine Project, the Foundation's collaborative research initiative. By employing doctors and researchers from the country's top institutions, the Sunshine Project is fast-tracking the development of new drugs and therapies that will ultimately lead to the cure of childhood cancers. For more information, go to http://www.fastercure.org.