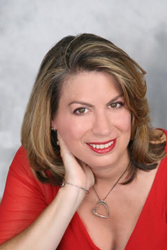 What intentions can you set to ensure that you will have a happy and gratifying holiday season?
Bethesda, MD (PRWEB) October 23, 2014
The end of the year holiday season can be a time fraught with challenges for single women and men. Certified Professional Life Coach, Amy Schoen, works with singles to create lifelong relationships. Through her Motivated to Marry community and coaching programs, she advises her clients to start now, in October, to make holiday decisions. It helps them plan more effectively, feel more empowered and enjoy their holiday experiences more fully.
Combining our culture's holiday frenzy with unrealistic expectations, unhappy memories and past holiday season disappointments, it's easy to understand why this time of year is so tough for so many singles. There are reminders everywhere that can trigger deep feelings of loneliness for those without a romantic love partner.
To initiate a meaningful conversation, Coach Amy asks clients these questions:
1. What is most challenging or difficult about being single during the holidays?
2. What is most fulfilling about the holidays?
3. What steps are possible to make this a happy time of year?
4. Who is the most meaningful person to connect with during the holidays – and how?
5. What intentions can be set and what new efforts can you try to push beyond your comfort zone boundaries?
The first step is to identifying what makes the holidays so difficult for you so you can start planning proactive steps for creating happy experiences in the weeks ahead. For more introverted singles, who are not party people, the challenge may be finding places and ways to connect with others. Some are frustrated by outdoor activity limitations in the season's cold dark days, making it harder to meet other singles. Still others complain about family pressure and expectations about dating or feeling sad about being alone at events.
In response to the second question, Schoen, who is known as Coach Amy, suggests carefully choosing what to focus on. It's important for singles to have close, caring friends around them. She also advises clients to spend time with their own children or the children of family members. They will appreciate the break, and time spent with kids can be very personally rewarding!
For question number three Coach Amy suggest you to be more proactive in planning and creating more fulfilling activities. Those who enjoy helping others can seek out shelters or other volunteer opportunities. Community organizations, churches and charities abound, each needing assistance and offering sincere appreciation in return. Taking a singles cruise can provide welcome relaxation away from obligations and expectations – along with the chance to meet a new love partner.
Coach Amy's advice for question number four is for singles to stay closely connected to the special people in their life. Explore travel time with a good friend. Schedule "Face Time" to stay in contact with loved ones. Plan ways to set boundaries with prying relatives who inflict needless discomfort when asking, "Are you dating anyone?"
Lastly, Coach Amy asks singles how they can push beyond their comfort zone. It may mean getting out of the house with friends and family, joining a new Meetup Group, or setting Aunt Jane straight about "being helpful." Maybe it's making time for online dating or pushing oneself to show up at holiday singles events to meet new people.
"In the end it's all about you," says Schoen. "How do you want the holidays to be for you this year? What intentions do you want to set to ensure that you will have a happy and gratifying holiday season? My relationship advice for the holidays is to remember it all comes down to connection. Whom do you need to connect with to make your experiences most rewarding? And how can you best create that for yourself?"
When asked to summarize her advice to make the most of the holidays, Coach Amy added, "Make plans to do something that is fun for you! Tell Aunt Mary all the great things you do because you are single. Surround yourself with people who love and appreciate you. Plan some down time to read, catch up with paperwork and just relax. Keep yourself busy by working extra hours and earning extra money – or volunteer where you are needed!"
Singles living in the DC Metro Area are invited to join Coach Amy's DC Marriage Minded Singles Meetup group at: http://www.meetup.com/Washington-DC-Area-Marriage-Minded-Meetup-Group where they can get additional relationship advice in person. To learn more about Schoen's coaching programs and services, visit: http://www.MotivatedToMarry.com. Schoen's videos can be seen on Youtube.com by searching for Coach Amy Schoen.