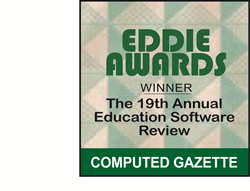 With eSchoolPLUS and PerformancePLUS, educators quickly glean insights that help support the on-the-spot decision making necessary for teaching and learning.
Bethlehem, PA (PRWEB) October 21, 2014
SunGard K-12 Education today announced two of its solutions, the eSchoolPLUS student information system and the PerformancePLUS assessment and curriculum management system, were named Best Online School Management Solution and Best Online District Management System, respectively, in the 19th Annual Education Software Review Awards Program (EDDIE Awards).
Sponsored by ComputED Gazette, the EDDIES target innovative and content-rich programs (including apps for iPad and Android) and websites that augment the classroom curriculum and improve teacher productivity, providing parents and teachers with the technology to foster educational excellence. Some selection criteria are academic content, potential for broad classroom use, technical merit, subject approach, and management system. Winners were selected from titles submitted by publishers worldwide.
Part of the PLUS 360 suite, eSchoolPLUS is a comprehensive student information management system that helps K-12 schools and districts manage student administration, monitor student performance, and facilitate communications between district staff, parents, and students. The software solution includes a powerful classroom management tool that provides just-in-time insights that help teachers support student achievement. It also offers online enrollment, a parent portal, and mobile access. eSchoolPLUS was named to District Administration's Top 100 products list and was a finalist in the 2014 CODiE Award Program.
Also part of the PLUS 360 suite, PerformancePLUS provides school districts nationwide with a single connection point for anywhere, anytime access to all of their assessment data. The software helps track longitudinal assessment results through interactive graphs correlated to state standards. Teachers and administrators have the ability to aggregate and disaggregate assessment data and use this information to establish and monitor goals, modify curriculum, and ultimately enhance the teaching and learning environment. In addition, PerformancePLUS offers educators a simple way to create, score, and analyze local assessments, making them a powerful solution set to help guide instruction.
Joel Hames, SunGard K-12 Education's director of product management, says the K-12 administrative software solutions provider is honored by these recognitions. "eSchoolPLUS provides educators access to information and tools that help support student achievement. PerformancePLUS arms them with information to make data-driven decisions that enhance instruction and help increase individual student achievement as well as overall district achievement," says Hames. "With eSchoolPLUS and PerformancePLUS, educators quickly glean insights that help support the on-the-spot decision making necessary for teaching and learning."
About SunGard K-12 Education
SunGard K-12 Education offers software solutions designed to help teachers, administrators, and parents support student achievement. The PLUS 360 products are a single integrated suite of software solutions for the management of student information, assessment and curriculum, special education, and financial and human resources. The suite—which provides district staff with anytime, anywhere access to important district information—can be deployed to work together to help meet educational goals and requirements or implemented as stand-alone systems. For more information, visit SunGard K-12 Education at sungardk12.com.
About SunGard
SunGard is one of the world's leading software and technology services companies, with annual revenue of about $2.8 billion. SunGard provides software and processing solutions for financial services, education, and the public sector. SunGard serves approximately 16,000 customers in more than 100 countries and has more than 13,000 employees. For more information, please visit http://www.sungard.com.
Trademark Information: SunGard, the SunGard logo, eSchoolPLUS, PerformancePLUS, and PLUS 360 are trademarks or registered trademarks of SunGard Data Systems Inc. or its subsidiaries in the United States and other countries. All other trade names are trademarks or registered trademarks of their respective holders.
© SunGard 2014. All rights reserved.