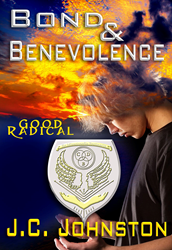 (PRWEB) October 23, 2014
J.C Johnston creates characters who find purpose through selflessness and the bonds of friendship through sacrifice. The path of benevolence leads them into a dangerous world of war, terror, and genocide in Darfur.
Short Synopsis: Samantha, a rich suburbanite of Greenwich, CT, and Ophelia from the Bronx, worlds' collide to create an eclectic story of benevolence. She devises a plan to connect with others through generosity, relinquishing treasured items at a yard sale in exchange for the right to visit the objects at any time. As Ophelia's mother and Sam's father fall in love, Sam tangles herself in a web of danger stretching from Ophelia's Bronx, New York neighborhood to the heart of the Darfurian genocide. After discovering she is armed with a unique weapon, Sam finds herself pitted against her mother's killer and an entire army of people who support the genocide.
Bond & Benevolence: Good Radical Short Synopsis: In the aftermath of Samantha's disappearance in Darfur, everyone has to pick up the pieces and continue building what she had started. The second installment in the Bond & Benevolence Series follows Justin and Ophelia as Justin and his new band of brothers transform themselves into fighters for the sake of rescuing Samantha and righting the wrongs of this world. Ophelia pursues her dream of being on top of the music world and has to decide whether to distance herself from the fight for Samantha. There are many obstacles along the way but they are also heroes who are willing to risk everything for the cause. Tough decisions will be made by the young teens as to who to trust, who to kill, and who to save.
Release Date: October 29, 2014