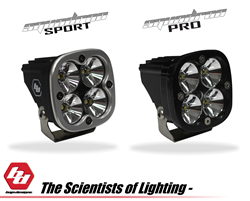 "The release of the next gen Baja Designs Squadron Sport and Squadron Pro allows us to appeal to more customers by providing impeccable quality standards and performance at an affordable price." – Diego Land, Sales Manager
San Marcos, CA (PRWEB) October 21, 2014
The Scientists of Lighting have done it again! Baja Designs (BD) is excited to introduce the NEW Squadron® Sport, the first of many LED lights being developed for their new sport line.
BD's next gen CopperDrive® LED circuit uses a new circuit board technology combined with a newer, more streamlined LED driver to offer increased performance at a lower cost. This circuit board technology increases the thermal transfer rate of the LED by 3000%, delivering the leading edge performance you expect. BD's next gen CopperDrive® allows them to reduce the MSRP on the existing Squadron® Pro and introduce the NEW Squadron® Sport LED light.
Specifications
Squadron Sport
Price: $119.95
Lumens: 1,800 - 4 Cree XP-G2 LEDs
Wattage/Amps: 20W / 1.4A
Weight: 12 ounces
Patterns: Driving, Spot, Wide Cornering, Flood
Squadron Pro
Price: $219.95
Lumens: 4,300 - 4 Cree XM-L2 LEDs
Wattage/Amps: 42W / 3.5A
Weight: 12 ounces
Patterns: Driving, Spot, Wide Cornering, Flood
Although similar in aesthetics to the Squadron® Pro, the Squadron® Sport is a completely different LED auxiliary light. The Sport utilizes CREE XP-G2 LEDs, which are ideal for near field, side/backup and scene lighting applications.
The Squadron® Pro truly annihilates the night with a blinding 4,300 lumens, providing you with all the power and performance you could want in an LED auxiliary light. The Squadron® Pro is ideal for forward projection, cornering, side/backup and scene lighting applications, with an output that is more than double the Squadron® Sport.
Technology
The Squadron® Sport and Squadron® Pro both feature BD's proprietary technology. First is their uService® Replaceable Lenses and Optics, which allows consumers to change the lenses and optics themselves without voiding the lifetime warranty. Next is their ClearView® optics that are meticulously designed and prototyped in-house by Founder and Lead Engineer Alan Roach, "giving you all the light right where you need it." Their MoistureBlock® Technology, makes their lights completely waterproof, rain proof and submersible. Another exclusive feature is their CopperDrive® found in their LED circuit that allows them to be the only auxiliary LED lights driven at 100%. They also feature 5000K Daylight Temperature, for better terrain recognition and less driver fatigue. To top it all off, all Baja Designs LED lights are backed by a 30 day money back Satisfaction Guarantee and a Limited Lifetime Warranty. If you're looking for the best, most reliable LEDs on the market, look no further than Baja Designs. BRIGHTER. BOLDER. BETTER.
About Baja Designs
For 20+ years Baja Designs has engineered revolutionary ways to stay at the forefront of motorcycle and automotive lighting. The first product developed was a Dual Sport kit that made a pure off road motorcycle minimally street legal. This intimate knowledge of motorcycle electrical capabilities led to a natural evolution to engineer the first HID motorcycle race light. Owner/Lead engineer Alan Roach and Product Development Engineer Stephen "Tex" Mitchell were avid Baja 1000 motorcycle racers who were able to fine tune a motorcycle's limited light optics to maximize rider comfort, speed and safety. As a result, Baja Designs has won every professional and amateur motorcycle and ATV Baja 1000 class for over 15 years.
As their engineers and racers advanced to truck and buggy racing, the next evolution began. The engineers quickly adapted their race winning HID motorcycle lights to their new race vehicles. With amazing speed, Baja Designs HID lights were adopted by the vehicle race community and could be found on the majority of Baja 1000 winning vehicles. In the process, Baja Designs engineers became well known as "The Scientists of Lighting" and were sought out by professional race teams to develop and aim their vehicle lighting.
LED lights were the next natural evolution of lighting and Baja Designs was the first company to develop a forward projecting LED light bar that was introduced and raced in the 2005 Baja 1000. That original LED light bar has evolved into a line of the highest performing and race winning LED lights on the market.
Revolutionizing industry leading lights is not just a job at Baja Designs, but a lifelong passion for both their owners and employees. The Baja Designs product line is dedicated to being BRIGHTER, BOLDER, and BETTER, which is why they truly are "The Scientists of Lighting".