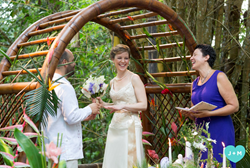 Dominical Beach, Costa Rica (PRWEB) October 28, 2014
WaterFall Villas Wellness Retreat is a well-known tropical gem located in the Baru Rainforest of Costa Rica's lush South Pacific region. This distinctive eco-resort offers unmatched luxury and harmonious existence with nature, thanks to its owners, Franco and Fateh Bolivar, whose dedication to preserving the environment has earned recognition and favor with all those who visit. WaterFall Villas' commitment to sustainable tourism and environmentally friendly practices is just part of what makes it a top contender on the list of Costa Rica's best tropical vacation getaways. WaterFall Villas also lures visitors with the breathtaking waterfalls that occupy its magnificent property, its affordable travel packages, and the extraordinary products and services it exclusively offers to its guests. WaterFall Villas' revamped website is just another way for this impeccable resort to reach out to those who still haven't dipped their toes into the picturesque South Pacific of Costa Rica just yet.
Enjoy a yoga retreat in Costa Rica, plan a wedding in Costa Rica, or discover a healthy and delicious Vegan or Raw Food lifestyle in Costa Rica! Discover the vacation packages at WaterFall Villas that promise to impact one's life forever, by visiting: http://www.waterfallvillas.com.
WaterFall Villas Wellness Retreat offers customizable vacation packages that include deliciously prepared, organic, gourmet meals that can be tailored to suit one's palette and dietary requirements. WaterFall Villas specializes in Vegetarian, Vegan, Raw, and Gluten Free lifestyles, and welcome the opportunity to share the healthful healing and physical transformation these lifestyles have to offer. Honeymooners may also choose to incorporate yoga instruction, massage, horseback riding, guided hikes, other adventurous activities or lavish spa services into the getaway. WaterFall Villas' new and innovative website offers a comprehensive summary for everything that WaterFall Villas has to offer, making the reservation process user friendly and extremely pleasant. WaterFall Villas also invites honeymooners or travelers to call and speak directly with a resort representative to plan an incredible journey at: (506) 2 - 787 - 4137, or (506) 8 - 882 - 7717.
WaterFall Villas' streamlined website includes incredible photo galleries of the Baru Rainforest, the tranquil waterfalls that its Balinese style villas are set upon, and the wild life that abounds at WaterFall Villas' rainforest sanctuary. Visit: http://www.waterfallvillas.com/photo-galleries to see what makes WaterFall Villas Wellness Retreat a favorite escape among seasoned travelers. The magnificent images displayed on WaterFall Villas' site provide curious newcomers with a glimpse of the natural bounty of gifts that exist only in Costa Rica's South Pacific region.
Experience a Romantic Waterfall in Costa Rica after catching a glimpse of it online at: http://www.waterfallvillas.com. There is a special WaterFall Villas vacation package for everyone who wants to visit and explore Costa Rica!
Some of the vacation packages offered online at http://www.waterfallvillas.com:

Spa Packages focus on detox, rejuvenation, transformation and therapies that lead to better health.
Nature Packages offer adventure, wild life exploration, healing journeys, as well as escape and adventure into Costa Rica's South Pacific region.
Wedding Packages include exotic and waterfall destination packages, vow renewal, and group extravaganzas.
Other WaterFall Villas' vacation packages include honeymoon packages, the signature Vegan/Raw Food Adventure, plus many seasonal specials. Decide which getaway package would best suit one's traveling style, at: http://www.waterfallvillas.com. The staff at WaterFall Villas looks forward to helping you plan a romantic waterfall getaway in Costa Rica!