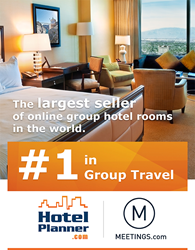 We are launching our new hotel stay giveaway exclusively on our Google+ page
West Palm Beach, FL (PRWEB) October 21, 2014
HotelPlanner.com, the leading online services provider of group hotel reservations worldwide, has launched a weekly contest through Google+. The program will run through November 30th, 2014.
The top group travel site is giving away $500 worth of free hotel rooms on Mondays and Wednesdays to 2 lucky fans who follow their Google+ page. Two $250 Free Hotel Room Challenges will be posted every week. Fans are invited to share their various travel experiences from dream vacation destinations, steps towards planning a trip, to uploading personal travel photos of exciting locations around the globe.
The winners of the contests will be announced with a link to HotelPlanner's Google+ page and shared on the company's Facebook and Twitter sites.
"We are launching our new hotel stay giveaway exclusively on our Google+ page," said Tim Hentschel, CEO of HotelPlanner. The winner of each challenge is picked at random and will be awarded a room voucher valued at $250. Look for the posts on HotelPlanner's Google+ page and follow the directions for a chance to be a winner.
Promotional Rules
The $250 vouched may be used at any hotel available on the HotelPlanner.com website and must be booked only through HotelPlanner. The room voucher must be used solely by the winner within 9 months of being awarded the voucher. The voucher is available for rooms only and may only be used for a single reservation. If there are funds remaining, they cannot be used on a second reservation or redeemed for cash. If the hotel reservation exceeds $250, the winner must pay the difference.
About HotelPlanner
Founded in 2002, HotelPlanner focuses its efforts on the group market and creates custom travel programs to help clients select the right property for their event for the best rate value in the market. HotelPlanner combines proprietary technology with a highly experienced staff of hotel professionals to deliver outstanding service. The company has offices in West Palm Beach, FL (USA Headquarters), Las Vegas, Nevada (Western Regional Office), London, England, European Headquarters and is opening an office in Hong Kong in October 2014. The company also operates Meetings.com which specializes in helping client's book meetings throughout the world.
To find out more information, contact Bruce Rosenberg at (818) 661-0244 or via email at Bruce.Rosenberg(at)hotelplanner(dot)com.