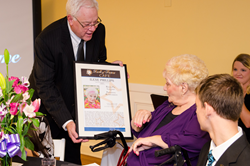 "Our residents have given so much to their hometowns and our nation, and these contributions deserve to be celebrated."– E. Joseph (Joe) Steier III, President and CEO, Signature HealthCARE
Louisville, KY (PRWEB) October 22, 2014
More than 400 nursing home residents, staff members, volunteers, community leaders and others were recently honored during Signature HealthCARE's 2014 Hall of Fame induction ceremony.
The event was the largest in company history and is believed to be the largest of its kind, spanning 10 states.
The purpose of the Hall of Fame program is to recognize the outstanding societal contributions, accomplishments and experiences of inductees. The program aligns with Signature HealthCARE's commitment to nursing home culture change, and its mission to radically change the landscape of long-term care and health care.
During the company's inaugural Hall of Fame celebration, in 2003, there were four inductees; to date, there have now been more than 2,700 people honored through the program. The events are widely attended by friends, family, elected officials and others.
This year's honorees included an engineer who worked at Kennedy Space Center, a hairstylist to some of country music's biggest stars, Purple Heart recipients, former professional athletes, pioneering men and women who helped tear down societal barriers, and many more.
For its first decade, the Hall of Fame ceremonies were held throughout the year, left to the discretion of each individual center. Signature, which now operates 124 locations, has recently taken a different approach by having each center host its Hall of Fame ceremony on the same day, creating a synchronized, company-wide event and building enthusiasm among the company's 19,000 employees.
Celebrations at four carefully-selected sites were broadcast online via LiveStream. These celebrations, along with bios of Hall of Fame honorees, can now be viewed on the Hall of Fame event website, SHCHallOfFame.com.
"I remember over a decade ago when we drew up a plan to have an annual gala at each center to celebrate life, and contributions to leadership and service in every community we served," said Signature President and CEO Joe Steier. "Our residents have given so much to their hometowns and our nation, and these contributions deserve to be celebrated. The Hall of Fame Café induction ceremonies are a small way for us to say 'thank you.' "