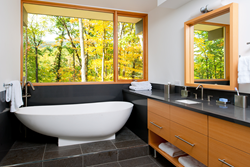 The Contemporary Collection combines Weather Shield's history of master craftsmanship with extensive options and refined profiles for today's modern custom homes.
Medford, Wis. (PRWEB) October 21, 2014
Weather Shield Windows & Doors will showcase its new Contemporary Collection to builders and remodelers in attendance at the 2015 International Builders' Show in Las Vegas, Jan. 20-22, 2015. The new products extend the appeal of the company's architectural line, the Premium Series™, to architects, custom builders, designers and homeowners who desire sleek lines and vast options for customizing their window and door packages. In addition to the Contemporary Collection, the company will showcase a full array of products and product lines, including a monumental Premium Series Coastal window, and Premium Series lift and slide and bifold patio doors.
"The Contemporary Collection combines Weather Shield's history of master craftsmanship with extensive options and refined profiles for today's modern custom homes," said Dave Koester, brand manager at Weather Shield. "Our Premium Collection appeals to homeowners who want to highlight the warmth and character of wood in their homes. The Contemporary Collection products have more of a minimalistic appearance, with narrower stiles and rails, streamlined hardware, and trendier interior and exterior finishes and colors. The distinct product offerings broaden Weather Shield's appeal in the market."
The Contemporary Collection is a suite of Premium Series windows and doors with narrow profile frames and sash for a more modern appearance and more exposed glass than standard Premium Series products, making Contemporary Collection products ideal for custom homes with breathtaking views. It includes direct set corner, crank and push-out casement, awning, and direct set windows, and narrow-stile hinged patio doors with contemporary ergonomic hardware. The corner window has two panes of glass that meet in the corner with only a very narrow corner cap, allowing for a nearly seamless view. A strong internal support structure on the exterior reinforces the unit.
The Premium Series serves as the foundation for the Contemporary Collection. Both offer options of seven interior wood choices – standard pine, Douglas fir, character alder, maple, oak, cherry and mahogany – that can be finished in one of five factory stain finishes, painted in white latex, or primed for finishing on the jobsite. The Contemporary Collection is also available in a black poly interior finish for a satiny look.
The durable aluminum-clad exteriors are offered in 12 popular standard colors: White, Cameo, Tan, Desert Tan, Hartford Green, Craftsman Bronze, Adobe, Heritage Brown, Brick Red, Grey Matters, Obsidian and Jet Black. An additional expanded palette of 45 designer colors and custom-color match are offered as well. The Contemporary Collection also includes four new exterior radiant metallic paint finishes. All colors meet the AAMA 2605 performance standards.
Hardware on both the Premium Series and the Contemporary Collection is offered in white, tan, brushed nickel and rustic bronze.
Incorporating the Latest Technology
The casement units in the Contemporary Collection feature TriCore™ Frame technology, which combines highly moisture-resistant materials, a fusion-welded sub frame, and thick, multi-chamber components to achieve new levels of energy efficiency and thermal performance. All Weather Shield products are available with energy-efficient glazing choices, such as double pane options of Zo-e-shield™ 5, Zo-e-shield 5 Extreme and Zo-e-shield 6, Zo-e-shield Coastal, and the triple-pane Zo-e-shield 7 and Zo-e-shield 8.
To find a Weather Shield dealer near you, visit http://www.weathershield.com/Find-A-Dealer.aspx.
About Weather Shield Windows & Doors
Founded in 1955, Weather Shield Windows & Doors is owned by the Schield family and is based in Medford, Wis. For more information on Weather Shield products, call 1-800-222-2995, or visit the company's website at weathershield.com.
# # #