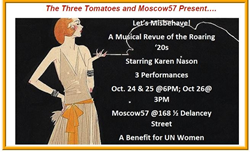 New York, New York (PRWEB) October 22, 2014
Moscow57 Entertaining and The Three Tomatoes are pleased to announce that they have teamed up for a fundraiser event to support the global work of UN Women (the United Nations entity for gender equality) dedicated to improving the lives of women and girls. The event, "Let's Misbehave!," is a musical revue of the roaring '20s performed by Karen Nason with Ellen Kaye joining as a special guest. There will be three performances at Moscow 57, the Russian Central Asian restaurant at 168 ½ Delancey Street on Friday and Saturday evenings, October 24 and 25, 6-8 PM and Sunday afternoon Oct. 26, 3-5 PM.
Tickets are $20 which will be donated to the US National Committee for UN Women (a 501C3 entity). There is a $20 food and drink minimum. Tickets are available online via The Three Tomatoes: http://www.thethreetomatoes.com.
Moscow 57 will become a "prohibition speak easy" and attendees are encouraged to dress in roaring 20s clothes.
Karen Nason's knockout performance of one of the songs from the revue, won her this year's Tomatoes' Got Talent Contest, an event that was created by The Three Tomatoes, a lifestyle guide for "women who aren't kids" to showcase the talent of women over 40. Karen was a fixture in the NYC music scene in the 1990s, and took some time off to raise her kids. Now she's back on the scene.
This all came together because Cheryl Benton, founder and publisher of The Three Tomatoes, a lifestyle web site and newsletter for "women who aren't kids." heard Ellen sing Dar Williams's song "When I Was a Boy," and asked Ellen to sing the song at a luncheon for UN Women at the United Nations. They've remained in touch since and are both excited to be collaborating on this event.
Ellen Kaye, co-owner of Moscow 57 says, "We are delighted to support the important work of UN Women, and are so excited to bring this terrific music to Moscow 57. This will be a fun evening."
About Karen Nason
Karen Nason is the owner and founder of "Hoboken Hothouse" a music venue with a garage, cafe, and outside garden that hosts events and live music in Hoboken, NJ. Karen Nason has been a singer all of her life, and has appeared in many shows throughout her career. She owned and operated a jazz bar and plant and flower shop in Chelsea for over a decade. Karen has worked with Bill Kerby, the writer of "The Rose" with Bette Midler, to develop the show for Broadway as a Rock' n Roll musical. The work is still in stages of development.
About Cheryl Benton
Cheryl Benton has a career that spans thirty years in the New York City advertising agency business. Today, in addition to publishing The Three Tomatoes, she is at the helm of her own marketing consulting firm, 747 Marketing. Benton is a board member of the US National Committee for UN Women.
About The Three Tomatoes
The Three Tomatoes is a fun free e-newsletter. It gives the real skinny on the best of everything in and out of NYC for fabulous, smart women. It includes reviews of products or services they think women should know about and have passed the "Three Tomato" review panel. It gives the skinny on everything from the best facials in New York City, to thong underwear that are actually comfortable. And from time to time they also give their opinions about plastic surgery, Botox, children, husbands, friends and whatever else may be coursing through their hormonally charged brains.
About Moscow 57
Moscow 57 on Delancey is a Russian Central Asian restaurant from a New Yorker's perspective, with live music nightly at 168 ½ Delancey Street. Owner Ellen Kaye's parents, Faith Stewart-Gordon and Sidney Kaye, owned the Russian Tea Room from 1947 to 1996.
Ellen performs nightly with Ethan Fein and the M57 Band. Special guest artists appear each night performing an eclectic mix of blues, jazz, folk, world music and rock.
Moscow 57, the hospitality and entertainment company, was launched several years ago by partners Ellen Kaye, Seth Goldman and Ethan Fein. For the past two years, the company has been hosting its M57 Urban Salons, evenings of music, food and digital visual art displays, in Harlem; Washington Heights; Chelsea; the Upper East Side; the East Village; Governors Island; New Milford, Connecticut; and New Orleans.
Moscow 57 has made New Orleans a home away from home, with regular forays into that city's world-renowned culture of Southern hospitality, regional cuisine, and world-class entertainment. After performing at and co-producing events with New York's Corcho Wine Room, as well as celebrating Latin American culture in New Orleans, this cosmopolitan attitude is being brought to Moscow 57's permanent home on New York City's Lower East Side every night. Moscow 57 Entertaining, created in partnership with Ethan Fein, is developing projects for film, television and theater. Its music company produces podcasts, live performances, recordings and videos.
Moscow 57's first CD releases have already garnered national radio airplay, and the company's videos can be seen on the Moscow57Entertaining YouTube channel. M57 Straight From Delancey airs every Sunday night at 7:00pm on WVOX 1460 AM, streams live on their website, http://www.wvox.com, and is archived at http://www.moscow57.com.