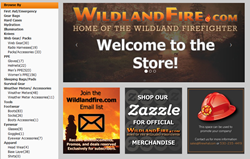 Dunsmuir, CA (PRWEB) October 21, 2014
Wildlandfire.com has launched their new e-store, which features a wide variety of firefighter products from numerous suppliers. Combined with the site's other unique offerings, Wildlandfire.com (WLF) is now the leading one-stop source of products and information for firefighters nationwide, including real-time fire incident data, fire industry news, job postings and more.
Wildlandfire.com was created in 1996 as an information sharing platform for firefighters. The site has since built a following of over 1.2 million annual visitors, most of which are professional wildland fire fighters. This week's e-store launch completes the site's re-vamp, which was started in the spring of 2013 after FireWhat, Inc. purchased the site from the original owners.
According to Sam Lanier, co-founder of FireWhat, Inc. and retired fire fighter, "Wildlandfire.com is our way of serving the men and women who work in the field to protect their communities every day. The e-store is our final major site renovation, and we hope that folks in the field benefit from the site's many offerings."
Beyond the newly launched e-store, the site features real-time fire data using the U.S. Wildland Fires Map found on the homepage. This map is populated with real-time fire perimeter, weather and incident information using data layers that the user can adjust for their own needs. The site also includes:

"Hotlist Forums", facilitated chat groups used to share detailed incident information from the field as it occurs.
Fire Maps page linking to multiple maps from agencies such as NOAA, USDA and NASA
Fire fighter job postings and employment information
News page featuring national fire related news reports
WLF "They Said" news page where site users can post their own news
WLF "Family Said" page for use by families of fire fighters
Extensive Links Page
FireWhat, Inc. is also launching an updated version of their "Wildfire Map" iOS App, which provides users with the most up-to-date fire information available. "Wildfire Map" is the first app of its kind, giving the public the ability to access critical information about a fire's perimeter, size, spread, and location in real time. It will be released later this October, and will be available for free by visiting the Apple iTunes App store.
About FireWhat, Inc.
FireWhat, Inc. was founded in Dunsmuir, California in 2010, to bring innovation to the technology-deprived industry of wildfire response. FireWhat, Inc. provides custom GIS technology tools to map and track assets in and out of the field, and operates GIS Mobile Labs available for on-site incident support. FireWhat also owns and operates Wildlandfire.com, the most trusted source of wildfire information in the nation, and is an Esri Silver level partner GIS Technology Company. Visit Wildlandfire.com's Facebook page at facebook.com/Wildlandfirecom or follow them on Twitter at twitter.com/wildlandfirecom.