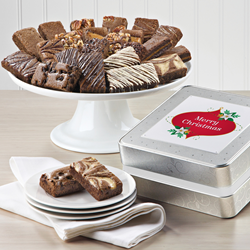 Phoenix, Arizona (PRWEB) October 21, 2014
Fairytale Brownies will open its doors to the public after bakery hours on Thursday for a special See and Sample event to show new holiday gift packaging, and to sample the new Pumpkin Spice Brownie introduced just last month.
Join the team members of Fairytale Brownies from 3 p.m. to 6 p.m. at the Fairytale Bakery, 4610 E. Cotton Center Blvd (48th St & Broadway Rd.), Phoenix. The first 100 attendees each will receive a free Halloween Brownie just for visiting.
In addition to sampling the new Pumpkin Spice Brownie, Fairytale will offer tastes of every brownie, cookie and blondie bar flavor the company bakes. Free coffee, cider and water will be available as well.
Fairytale will provide brownie "rejects" for a special price of $1 each. A reject is any Fairytale product that doesn't meet strict company packaging appearance standards. The brownie, cookie or blondie bar still tastes delicious. It's just not a perfect 10. All proceeds from the $1 reject offer, plus 20% of gifts sold during the After Hours event will go to Fairytale's national nonprofit partner KaBOOM! Fairytale Brownies will match donations made to KaBOOM! up to $5,000 at the end of the year.
"Our $1 reject sale is extremely popular with our regular customers." Eileen Spitalny, Fairytale Brownies co-founder said. "They know they're getting a great deal and they feel good supporting KaBOOM!"