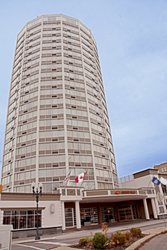 Crowne Plaza Syracuse is honored to be the first and only TAG Approved hotel in Syracuse
Syracuse, NY (PRWEB) October 23, 2014
Crowne Plaza Syracuse, an upscale hotel located in Downtown Syracuse, NY, is pleased to announce that it is the first hotel in Syracuse to be TAG Approved®, a program for "LGBT-friendly" accommodations.
Crowne Plaza Syracuse, situated in the heart of Downtown, is conveniently located for both business and leisure travelers and is near numerous area attractions and businesses, including Destiny USA, Syracuse University and the OnCenter Convention Center Complex. As a LGBT welcoming Hotel and Conference Center, the Crowne Plaza Syracuse is the perfect choice for pleasure, business, or meetings and events, and features 12,500 square feet of meeting and event space.
TAG Approved was launched in 1997 to help accommodations effectively reach and sensitively serve the LGBT community. Today, more than 2,000 hotels are involved in the program, worldwide. LGBT-owned or genuinely LGBT-welcoming accommodations (from small boutique hotels to large, flagged chains) may participate in the program as long as the property meets the TAG Approved acceptance standards, which include:

Enforce non-discriminatory policies including "sexual orientation."
Treat heterosexual and domestic partners equally in personnel policies.
Provides LGBT diversity and sensitivity training for employees.
Empower customers and employees to be "watchdogs" of its gay and lesbian business practices.
Gives back to their community.
Employs staff who reflect the diversity of their community.
"The hotel is honored to be the first and only TAG Approved hotel in Syracuse," said Tammy Madajewski, General Manager. "We are proud to offer a non-discriminating facility that values equality, diversity and altruism."
Click here to reserve a room or meeting space at the Crowne Plaza Syracuse today.
About the Crowne Plaza Syracuse:
The Crowne Plaza Syracuse hotel is an upscale hospitality gem, offering luxury rooms and suites and generous amenities for business and leisure travelers. From onsite dining at Redfield's Restaurant to elegant meeting space and a convenient business center, the offerings at our distinctive circular hotel are diverse and accommodating. Be greeted by world-class service and inspired by our Syracuse hotel's convenient downtown location. For more information visit http://www.cpsyracuse.com