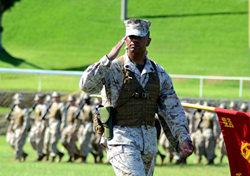 The veterans I work with demonstrate positive attitude, act as role models, and take personal interest in accomplishing every Solar PV install with integrity and spirit."
Murrieta, CA (PRWEB) October 21, 2014
For the past seven years, Southern California solar company, Ambassador Energy, has enjoyed a healthy amount of proactive positive reviews from its customers. However, immediately upon deploying its first military veteran crew this summer, the rave reviews began to multiply, compelling company executives to continue hiring veteran graduates of the TVA program.
When Scott Chapman was introduced to TVA and interviewed by CEO, Scott P. Duncan, a Marine Lieutenant Colonel - Retired (Former Battalion Commander and Combat Veteran), Chapman quickly became interested in pursuing a civilian career within the solar industry. In August 2014, he completed the five-day course, passed the North American Board of Certified Energy Practitioners (NABCEP) Entry Level Exam and was hired by solar installation and training company, Ambassador Energy in Southern California.
"It didn't take more than a few weeks for us to recognize Chapman's amazing skills and leadership qualities," said CEO of Ambassador Energy, Steve Fulgham. "And, when I drilled deeper into his USMC resume, I was floored by his experience and talent. He has already made a difference to our company, as he looks for ways to make our model better, leads daily pep-talks with the teams, and represents us very well in the field. In addition to making us operationally stronger, he and the other veteran team members have helped change Ambassador Energy's forward face, which is really resonating with our customers. They love the veteran teams! For all of these reasons, we have committed to a company goal of having every crew comprised exclusively of veterans."
Chapman's civilian work is proving to be exemplary, as was his military career, which included 21 years of active duty service in the United States Marine Corps, where he began in 1992 as an automotive mechanic on tactical vehicles, and retired in 2013 at the rank of Gunnery Sergeant. During his last two years of service, he served as Battalion Motor Transportation Maintenance and Operations Chief, and on the company-level Command Team as the Company Operations Chief and the Company Gunnery Sergeant. He also served as Maintenance Chief with a combat tour in Iraq and on two tours as a Drill Instructor, Transportation Licensing Examiner and Black-belt Instructor-Trainer.
Scott Chapman received numerous awards for professional achievement, meritorious service and superior performance; most notably, for his role as Company Operations Chief, a billet typically reserved for an infantry Master Sergeant. He was instrumental in the pre-deployment preparation, planning, and ultimate training of 250 Marines during a joint-training operation, while simultaneously serving as the assistant Camp Commandant for more than 1500 Marines in Camp Mujuk, South Korea.
"My experience with TVA and Ambassador has been nothing short of family and community support," said Chapman. "Everyone in the organization is willing to share ideas, skills, knowledge, and expertise. The veterans I work with demonstrate positive attitude, act as role models, and take personal interest in accomplishing every Solar PV install with integrity and spirit."
This Marine's story is just one example of how the TVA formula is working, as it connects the dots between the desirable supply of a trained veteran workforce and the growing demand from the renewable energy industry.
About The Veteran Asset (TVA)
TVA is a tax-exempt nonprofit 501(c)(3)organization, whose mission is helping U.S. military veterans (Active/Guard & Reserve), obtain careers in the renewable energy sector. TVA recruits, facilitates top-notch Solar PV training and ultimately provides placement services - at no cost to the veteran.
About Ambassador Energy (AE)
AE is comprised of Ambassador Energy College Solar Training, the Ambassador Energy Agency Program and the installation arms, Ambassador Energy and Ambassador Solar. On staff are NABCEP Certified PV Installers, NABCEP Certified PV Technical Sales professionals [Fulgham/Kelso] and multiple NABCEP EL graduates. AE holds California licenses General Contractor B, C10 Electrician and C46 Renewable Energy. Ambassador Energy is IREC/ISPQ accredited. AE Agencies are nationwide. Ambassador Energy installs residential and commercial PV systems throughout California and the US.