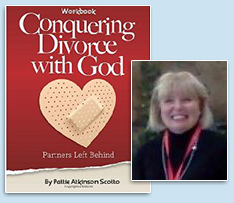 Excellent resource for recovering from the traumas that often occur during divorce. This leads you to true healing through the One that can only truly heal.
Marietta, GA (PRWEB) October 23, 2014
Pattie developed the Conquering Divorce with God program and workbook to help individuals see why they chose their mate and what to look out for in their future relationships. The workbook was written for the Partner Left Behind in the divorce. Many of the Partners Left Behind were manipulated into filing for the divorce. This workbook is a journey for them to discover who they are, how they make decisions, and what have been their consequences. It is a guide for them not to make the same mistake over and over. All races, religions, and nationalities have been welcomed in this program as the pain of divorce is the same for everyone.
Pattie has 20 years worth of experience leading the weekly Separated and Divorced Community Ministry Program at Saint Joseph's Church in Marietta, Georgia. The program is open to all faiths and cultures with no judgments. The pain of divorce and separation is so intense for the members that Pattie created a plan to help them focus in another direction by looking at how they were making or made their decisions in their past. Pattie was amazed by the participants who willingly offered to share their pain and suffering in the 'Partners Left Behind' chapter of her work book.
"It has been my privilege to be present once a week when the broken hearted fall through the door of where we meet. They do not know where to turn. There is a new beginning waiting for them in this workbook," Pattie stated. She added, "I wrote the book for single parents with children that could not find babysitters to attend the meetings, for members who wanted homework, and to share actual stories of individuals who went through the program with those who felt they were the only ones experiencing the pain of separation and divorce. Many remarried divorced individuals carry the pain of their divorces. This workbook has been written for them also." She has seen the workbook help hundreds of individuals make better decisions that have led them to a happier life.
Conquering Divorce with God can be purchased through Amazon: http://www.amazon.com/Conquering-Divorce-God-Pattie-Atkinson-Scotto/dp/061596348X/ref=sr_1_1?ie=UTF8&qid=1414007833&sr=8-1&keywords=conquering+divorce+with+god
Praise for Conquering Divorce with God:
"This workbook really makes you reach deep inside and finally admit you need help with dealing with divorce. A great big thank you, Pattie, for putting this together."
"A great resource when working with clients that are going through a divorce."
"If you are hurting, this is a resource designed to help you make sense of all the hurt and craziness from someone breaking your heart. Going through a divorce and been to many support groups and self help programs. This one really works. Thank you for helping me believe I will come out of this even better than before it started."
Pattie Scotto grew up in a town of 8,000 in the Midwest. She was the third of four children in a family of high achievers. After college, Pattie had a retailing career for seven years in High Fashion in New York City. Pattie relocated to Atlanta, Georgia after a legal separation and changed her career to Corporate Recruiting. Her website is http://keyrecruitersusa.com. Pattie raised two daughters as a single mother.