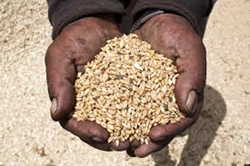 Plant and Soil Health together is the Secret
Houston, Texas (PRWEB) October 21, 2014
A group of professional business men have formed a team and are launching a new company in Ghana, West Africa. This newly formed organization aims to implement sustainable agriculture, to help local family farmers increase their crop production.
Turf Feeding Systems, a Texas fergitation company, will join the task force to increase crop production and soil health for rural farmers in Africa.
The newly formed company is named "Sustainable Africa – Ghana". The members have asked Mr. Michael Chaplinsky, the President of Turf Feeding Systems to be a director - he has enthusiastically accepted.
"Africa has abundant land and people, but it has difficulty to produce food to feed its population and it imports food," notes Chaplinsky.
The team members are experienced leading professionals in agriculture, management, shipping and marketing in Ghana and Ivory Coast, West Africa. They are sharply focused on helping to improve the productivity of the rural family farmers, which are the foundation of African agriculture.
Africa has many agencies, foundations and NGOs working to help Africans, but this new project is not an NGO. This is a real business created and managed by Africans to create jobs, new careers and double the crop production of the family farmer.
The team contacted Michael Chaplinsky, President of Turf Feeding Systems this year because of his leading technologies in fertigation, sustainable agriculture and water efficiency.
Mr. Paul Camille N'Dri, one of the team members, traveled to Houston in August to meet with Mr. Chaplinsky at Turf Feeding Systems headquarters. He was trained in the technology of fertigation and discussed Mr. Chaplinsky's technology for a special fertilizer factory that converts waste poultry manure into low cost, high quality organic fertilizer.
Mr. Chaplinsky's fertilizer factory is well suited for Ghana, which has large poultry farms and produces many tons of waste chicken manure. The fertilizer which the factory produces will be low cost and more productive than the traditional imported synthetic chemical fertilizer. Additionally, and the fertilizer will not have tax, duty or freight.
Mr. Chaplinsky notes the benefits of the organic fertilizer. "It is rich in L amino acids, which are essential nutrients going directly into the plant for growth and root production, and also feeding the soil health."
He says soil health is the secret benefit that will double the crop production for the family farmer year after year.
The fertilizer factory will also include a sustainable agriculture learning center, dedicated to teaching the practices of implementing sustainable plant and soil health. This brings nature back into agriculture, and is the heart of African belief and faith.
Mr. Kingsley Amoah, a team member, is currently finishing the business plan for the organization. The Sustainable Africa – Ghana team plans to start factory construction by the middle of next year.
Mr. Chaplinsky feels very positive about the company and its direction, because it's a business formed by Africans, managed by African business professionals focused on helping Africans and improving the GDP of Ghana.
It's a dream for Africa, converting waste into valuable fertilizer to produce food and jobs for Africans.
Bio:
Michael Chaplinsky – President / Founder Turf Feeding Systems
Turf Feeding Systems - Houston Texas – USA - The world leader in packaged fertigation systems (fertilizer injection into irrigation) for golf, sports fields, landscapes, resorts and agriculture.
Mr. Chaplinsky has worked for over 28 years implementing water efficiency and sustainability into all types of irrigated projects around the world. He speaks at many conferences and lectures on sustainable soils, landscapes, golf and agriculture.
Mr. Chaplinsky has worked with the top scientists and engineers on project that include construction, revegitation, bio-remdiation and beach erosion. He brings technologies and practices together to promote plant and soil health, and create the values and benefits of sustainability.