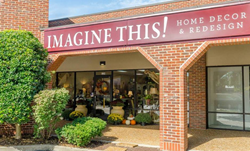 "I believe everyone can own their dream home," says Cathy Wilson, owner and founder of Imagine This!
Nashville, TN (PRWEB) October 21, 2014
Imagine This! Home Décor and Redesign celebrated its grand opening in Nashville, TN on October 4, 2014. Dozens of Middle Tennessee's top interior designers, artists, homeowners and clients stopped by to commemorate the opening, totaling an estimated 150 guests throughout the day.
Imagine This! guests were treated to 30 percent off any purchase as well as the opportunity to win a $500 shopping spree. Since its opening, Imagine This! has quickly gained recognition as one of the leading interior design boutiques in the greater Nashville area.
Cathy Wilson, the founder and owner of Imagine This!, is an MTSU graduate and Nashville native. "So much of the business is local," explains Cathy, who has intentionally utilized local fabrics, upholsters and products to support the surrounding community. Imagine This! boasts a wide collection of beautiful home accessories, candles, mirrors, duvet covers, tableware, stationary, nursery sets and other pieces for home décor.
Prior to opening Imagine This!, Cathy taught as an English high school teacher in Southeast Texas. Now, Cathy has committed to a new career path, following her dream to empower women and inspire them to design their own dreams. Whether it's through beautiful décor or personal interactions in her store, Cathy believes that everyone can own their dream home.
"I'd always wanted to own a store. I think of myself as a shop owner. I own a shop," says Cathy. Inspired by Hellen Keller, who said, "The most beautiful world is always entered through imagination," Cathy aims to inspire creativity. Customers will enjoy the total shopping experience thanks to a wide selection of one-of-a-kind items from local artisans to rare decorative pieces with European styling. Imagine This! is open today.
Imagine This is located at 73 White Bridge Road, Suite 124, Nashville, Tennessee 37205.