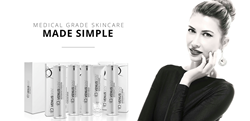 "We have already established a very popular business model with regard to how we offer physicians access to the latest non-surgical technology for body contouring, cellulite reduction and skin tightening via our low risk subscription" - Domenic Serafino
Toronto (PRWEB) October 21, 2014
Global Aesthetic Technology Leader, Venus Concept, is pleased to announce the official launch of its newest business division, Venus Skin™, the first subscription based medical grade skincare line that requires no inventory to purchase or stock by physicians or medical spas.
"We have already established a very popular business model with regard to how we offer physicians access to the latest non-surgical technology for body contouring, cellulite reduction and skin tightening via our low risk subscription," said Domenic Serafino, CEO and Co-Founder of Venus Concept.
"When evaluating potential growth opportunities, we quickly discovered that the medical grade skincare business was another area that was in need of a major overhaul. Traditional skincare companies have spent years discovering ways to sidestep their physician partners by allowing patients to buy their products from third party online outlets at up to 60% discounts. This practice ultimately cuts the physicians out of the profit and many times leaves them with a lot of unsold, expensive inventory with limited expiration dates. With Venus Skin™, we hope to establish a renewed level of trust with our physician partners as our products will never be sold through third party outlets."
Unlike other skincare companies, there is no inventory to purchase or stock required with the Venus Skin™ program. Patients make product selections online using an exclusive physician ID code and the order is shipped directly to their homes. The patient will automatically receive a new supply every 30, 45 or 60 days of their desired product and all orders are tracked using the physician's ID code. Physicians are then sent a monthly commission check based on their sales activity. Our Physician partners will also benefit from patients who refer friends and family to the program using their exclusive ID code, thus resulting in increased revenues and a larger patient pool to cross sell other services.
Venus Skin™ also offers significant benefits to patients. Its unique mixed formulation reduces application time to less than 3 minutes per day and patients can see results in 28 days or less. Initially, Venus Skin™ will offer three kits for patients to choose from: Anti-Aging, Acne and Pigmentation. Over time, the line will expand to include body shaping, cellulite reduction and skin firming formulations to compliment the Venus Freeze™ and Venus Legacy™ technologies. Additionally, the line will feature stem cell based post recovery products for energy based skin rejuvenation treatments.
For more information on the Venus Skin™ program please visit http://www.venusskin.com. For physicians email Medea Mirolla at [email protected] or call 1-888-907-0115, ext 120.
About Venus Skin™
Venus Skin™ is a scientifically formulated, clinically tested skin care product line sold exclusively through approved physician's offices across North America, as well as online through VenusSkin.com.
Venus Skin™ is brought to you by Venus Concept, a leader in the non-invasive, medical aesthetics industry, constantly pushing the boundaries in bringing consumers the latest treatments for the face, neck and body.
About Venus Concept
Venus Concept is a progressive thinking company driven by our passion to create cutting edge technologies and products. While resting on strong ethical morals, we push boundaries in order to create new standards in the medical aesthetics industry.
Led by a team of experienced executives and researchers, world renowned for their achievements in the medical aesthetics industry, Venus Concept is delivering the promise of a more effective, more pleasant and more profitable experience.