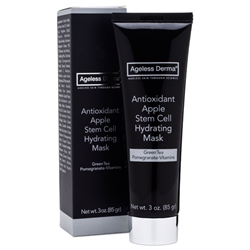 Dr. Mostamand says, "The Antioxidant Apple Stem Cell Hydrating Mask potent ingredients work in synergy to bring moisture and radiance back to the complexion by using nature's own antiox
Irvine, California (PRWEB) October 23, 2014
Ageless Derma is one of the most highly esteemed providers of anti-aging and everyday skin care products. They are proud to introduce their latest innovation in the facial mask arena with their Antioxidant Apple Stem Cell Hydrating Mask. This facial product uses stem cell technology derived from a rare Swiss apple known for its long and healthy shelf life. The additional all natural ingredients in this mask make it a potent antidote to dry, dull skin that craves moisture and revitalization.
The Antioxidant Apple Stem Cell Hydrating Mask uses PhytoCellTecTM technology to cultivate cells from the exotic Swiss apple, Malus Domestica. This apple variety has the ability to stay fresh for extended periods of time without the accompanying shriveling that occurs with other fruit varieties. Its acidic flavor, however, prevented farmers from growing it widely for consumer consumption. Its scientific advantages were taken note of and the stem cells are put to powerful use in Ageless Derma's Antioxidant Apple Stem Cell Hydrating Mask. This liposomal formulation has been incorporated into the effective facial mask for smoothing wrinkles and keeping skin looking younger through its antioxidant activity.
Other ingredients strategically placed in the Antioxidant Apple Stem Cell Hydrating Mask include natural enzymes for softening the skin. Aloe Barbadenis Leaf Juice heals, protects and hydrates skin. Sunflower Seed Oil is also a protectant and deep moisturizer. The natural Kaolin Clay is what extracts toxins, grime and impurities from the skin, making the complexion clear, smooth, and feeling revitalized.
The key antioxidants also used in Antioxidant Apple Stem Cell Hydrating Mask are green tea and pomegranate. They fight the damage caused by free radicals and also protect skin against the sun's UV damage, a major cause of fine lines, wrinkles and irritated skin.
The developers at Ageless Derma Skin Care know they are making something remarkable happen in the skin care world. Their line of physician-grade skin repair products incorporates an invaluable philosophy: supporting overall skin health by delivering the most cutting-edge biotechnology and pure, natural ingredients to all of the skin's layers. This approach continues to resonate even today with the company's founder, Dr. Farid Mostamand, who close to a decade ago began his journey to deliver the best skin care alternatives for those who want to have healthy and beautiful looking skin at any age. About this latest Ageless Derma mask, Dr. Mostamand says, "The Antioxidant Apple Stem Cell Hydrating Mask is an extraordinary development in our Ageless Derma product line. Its potent ingredients work in synergy to bring moisture and radiance back to the complexion by using nature's own antioxidants."
Ageless Derma products are formulated in FDA-approved Labs. All ingredients are inspired by nature and enhanced by science. Ageless Derma products do not contain parabens or any other harsh additives, and they are never tested on animals. The company has developed five unique lines of products to address any skin type or condition.