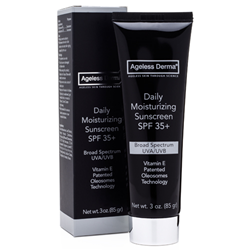 Dr. Mostamand says, "The Daily Moisturizing Sunscreen SPF 35+ is a multi-faceted skin protectant and anti-aging product.
Irvine, California (PRWEB) October 23, 2014
The Ageless Derma Skin Care Company releases its latest sunscreen product that protects against both UVA and UVB rays as it also provides deep moisturization and anti-aging benefits for skin. The Daily Moisturizing Sunscreen SPF 35+ delivers broad-spectrum sun protection using a specialized technological system for deep skin penetration.
Daily Moisturizing Sunscreen SPF 35+ from Ageless Derma gives skin the protection it needs from the sun's dangerous and skin-aging UVA and UVB rays. This product uses a Safflower Oleosomes technology system, a patented delivery system for allowing maximum penetration of the sunscreen ingredients. This results in reliable, moisturizing sun protection of the highest level necessary. When skin is protected and moisturized, as it is with Daily Moisturizing Sunscreen SPF 35+, fine lines and wrinkles have less chance of forming at an earlier age, as do dark unsightly marks and the possibility of cancerous skin lesions, an unfortunate result of sun exposure without proper protection.
The Oleosomes used in Daily Moisturizing Sunscreen SPF 35+ are pure botanical oils derived from plants and seeds. The oils are used to provide plants with energy, giving the Ageless Derma sunscreen an active delivery system plus a stable environment for the additional powerful ingredients contained within this multi-active sunscreen. The Oleosomes allow the Sun Protectant Factor (SPF) of 35+ to become even stronger yet non-irritating on skin. The Oleosomes are time-released for maximum sun protection over time. A lesser amount of emulsifying chemicals are necessary because of the use of Oleosomes in the Daily Moisturizing Sunscreen SPF 35+.
This powerful Daily Moisturizing Sunscreen SPF 35+ protects the user against harmful sun exposure that often results in skin burning from UVB rays and the signs of premature aging in the form of wrinkles and lines, and skin cancer, from the sun's UVA rays.
The developers at Ageless Derma Skin Care know they are making something remarkable happen in the skin care world. Their line of physician-grade skin repair products incorporates an invaluable philosophy: supporting overall skin health by delivering the most cutting-edge biotechnology and pure, natural ingredients to all of the skin's layers. This approach continues to resonate even today with the company's founder, Dr. Farid Mostamand, who close to a decade ago began his journey to deliver the best skin care alternatives for those who want to have healthy and beautiful looking skin at any age. About this latest Ageless Derma mask, Dr. Mostamand says, "The Daily Moisturizing Sunscreen SPF 35+ is a multi-faceted skin protectant and anti-aging product. Not only does it give skin protection from damaging UVA and UVB rays that can cause burns, wrinkles and possibly skin cancer, but it also delivers the deep hydration that skin needs and that the sun can take away. It is vital that the skin is defended on a daily basis to avoid these disturbing effects."
Ageless Derma products are formulated in FDA-approved Labs. All ingredients are inspired by nature and enhanced by science. Ageless Derma products do not contain parabens or any other harsh additives, and they are never tested on animals. The company has developed five unique lines of products to address any skin type or condition.