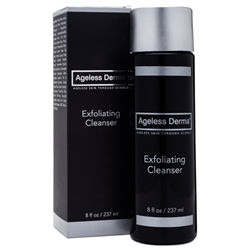 Dr. Mostamand says, "The Ageless Derma Exfoliating Cleanser is an exciting development in the anti-aging skin care field.
Irvine, California (PRWEB) October 23, 2014
The Exfoliating Cleanser developed by the Ageless Derma Skin Care Company has all of the age-defying elements a user needs to cleanse the complexion and pores deeply as it exfoliates to reveal fresher, younger skin. The Exfoliating Cleanser uses nature's own ingredients, full of antioxidants, to also tone and calm inflammation for a fully renewed and revitalized experience.
Ageless Derma's Exfoliating Cleanser contains natural ingredients that perform anti-aging, exfoliating, and deep cleansing actions. The main antioxidant included in the Exfoliating Cleanser is the botanical Equisetum Hyemale Extract, also known as the Horsetail or Bottlebrush plant. Horsetail is chock full of silica, essential for collagen production. Without renewed collagen production, the skin sags and an aged appearance becomes more apparent with time. The body's collagen stores are depleted naturally as the body ages. Horsetail extract's silica helps restore lost collagen in order to redefine and firm up the skin's sagging fibers. The Horsetail in Exfoliating Cleanser by Ageless Derma also refreshes skin and aids in healing skin damage that is already becoming evident.
A form of natural Vitamin A is also included in the Exfoliating Cleanser to aid in the exfoliation process. The dead skin cells lying on the surface are gently sloughed off and pores are deeply cleansed for new, younger skin to reveal itself. Other effective and natural ingredients placed within the Exfoliating Cleanser include Pomegranate, Green Tea, Lemongrass, and Humulus Lupulus (Hops) Extracts. Natural citric acid is also an ingredient in addition to Vitamins C and E. The pure antioxidants in the Exfoliating Cleanser keep free radical damage at bay and rejuvenate the entire complexion.
The developers at Ageless Derma Skin Care know they are making something remarkable happen in the skin care world. Their line of physician-grade skin repair products incorporates an invaluable philosophy: supporting overall skin health by delivering the most cutting-edge biotechnology and pure, natural ingredients to all of the skin's layers. This approach continues to resonate even today with the company's founder, Dr. Farid Mostamand, who close to a decade ago began his journey to deliver the best skin care alternatives for those who want to have healthy and beautiful looking skin at any age. About this latest Ageless Derma product, Dr. Mostamand says, "The Ageless Derma Exfoliating Cleanser is an exciting development in the anti-aging skin care field. As skin ages, its texture, definition and irritation become more of an issue. This cleanser will calm skin as it invigorates, cleanses and exfoliates for a youth-renewing appearance that will last and last with continued use."
Ageless Derma products are developed in FDA-approved laboratories. All ingredients are inspired by nature and enriched by science. Ageless Derma products do not include parabens or any other harsh elements, and they are never tested on animals. The company has developed five distinctive lines of products to address any skin type or condition.