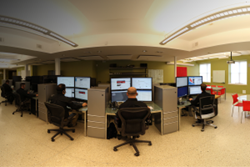 A simple power-off and reboot solves more problems than anything else. This was true 25 years ago and is still true today
Hoboken, New Jersey (PRWEB) October 21, 2014
eMazzanti Technologies, a NYC area IT consultant, today published a new article detailing IT troubleshooting tips to help businesses save time and money when calling tech support to resolve computer problems.
The informative article provides practical information to reduce the time and frustration employees and business owners experience when the technology they are so dependent on fails to function properly. Below are a few excerpts from the article.
10 IT Troubleshooting Tips to Save Time and Money
1. Observe - Look closely at your monitor for clues to the problem. Check the system tray for yellow or red notification icons from programs such as Windows Security Center or Action Center…
2. Check life support - Humans require air, water and food to function properly. Likewise, computers need cool air, electricity and connections to sustain life...
3. Restart – Try restarting non-functioning programs and services such as the business application or email program before rebooting the whole computer. For example users can restart the Exchange transport service through the console.
4. Save your work - Before powering off the desktop, save all of your work to the server or a memory stick…
5. Reboot – A simple power-off and reboot solves more problems than anything else. This was true 25 years ago and is still true today…
Read the full article 10 Things to Do Before Calling Tech Support
eMazzanti's eCare Services
When it comes to support, eMazzanti's award-winning eCare engineers are proactive, fast and up-to-date. Always very responsive, the continually trained Microsoft Certified IT Consultants take pride in their work and strive to be as helpful as possible. They often identify and resolve problems before clients are aware of them.
Other related resource information:
6 Tech Tips to Stretch the IT Budget Article from eMazzanti Technologies
5 Career Survival Tips for the "Wherever" Worker
About eMazzanti Technologies
eMazzanti's team of trained, certified IT experts rapidly deliver cloud and mobile solutions, multi-site implementations, 24×7 outsourced network management, remote monitoring and support to increase productivity, data security and revenue growth for clients ranging from professional services firms to high-end global retailers.
Serving more than 400 Hoboken, NJ, NYC area and international customers, eMazzanti is Microsoft's 2012 Partner of the Year and 2013 Northeast Region Partner of the Year, a 5X WatchGuard Partner of the Year and has made the Inc. 5000 list five years running. Contact: Carl Mazzanti 201-360-4400 or emazzanti.net Twitter: @emazzanti Facebook: Facebook.com/emazzantitechnologies.
Download the free article: How to Select an IT Provider here.