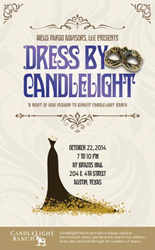 AUSTIN, TEXAS (PRWEB) October 21, 2014
Candlelight Ranch will host their annual fundraiser "Dress by Candlelight presented by Wells Fargo Advisors, LLC" this Wednesday, October 22, 2014, at the beautiful Brazos Hall in Austin, Texas.
Attendees will be treated to a runway show featuring the latest women's fashions from Julian Gold including designs from designer and Project Runway's Austin Scarlett. Scarlett was a part of Project Runway's original season and stole the show with his cornhusk dress. Known for his couture designs, Scarlett has become an icon in the world of bridal. The concept for Scarlett's designs comes from his love of performing arts, music, dance, drama and opera. Currently, Scarlett's designs can be found at Julian Gold and other fine clothing ateliers. Scarlett will be in attendance for the Dress by Candlelight event to watch his designs take flight down the runway.
Prior to the fashion show there will be live and silent auctions with amazing get-away packages; delicious bites and cocktails from some of Austin's best and brightest restaurants including Black's Barbecue, Jack Allen's Kitchen, Odd Duck and Quality Seafood.
Candlelight Ranch would like to thank our sponsors and supporters who have generously contributed to the 2014 "Dress by Candlelight presented by Wells Fargo Advisors, LLC" fundraiser. Sponsors and supporters include: Wells Fargo Advisors LLC, Dell Financial Services, CLS Partners, EZCorp, Lone Star Quantitative Group, Whole Foods Market, Ashton Woods Homes, Carmack Concepts, The Frachtman Family, McDonalds – The Kerby Family, Gail and Rodney Susholtz, Garbo - A Salon & Spa, Labor Finders, Pape-Dawson Engineers, Riemer Residential, Perrier, LCRA, Seton Healthcare Family, Sonrisas Therapies, TIBH Industries, United Lending, Vacek, Kiecke & Currier LLP, Pediatrix Medical Group, Randalls, Julian Gold, Audience Generation, Arthouse Design, Auction Source, Aus-Tex Printing, Brass Tacks Events, Central Texas Valet, Davey Trees, Dripping Springs Vodka, Hahn Public Communications, Hanan Exposures, Ilios Lighting, InFluential Magazine, Jackson Ruiz, Jameson Irish Whiskey, LOOT Vintage Rentals, Marvelous Vintage Tea Party Co, Texas Media Systems, TRIBEZA, and Twin Liquors.
For more information about Candlelight Ranch and to purchase tickets for "Dress by Candlelight presented by Wells Fargo Advisors, LLC", please visit:
Online: http://www.dressbycandlelight.com
Facebook: https://www.facebook.com/CandlelightRanch
Twitter: @cndlelightranch
About Candlelight Ranch
Candlelight Ranch is 100 acre camp in the Texas Hill Country whose mission is to provide a unique outdoor environment where special needs and at risk children learn, play and heal through the wonders of nature. Partnering with other non-profits and schools, Candlelight Ranch provides fun, therapeutic, nature-based programming for children with autism, visual impairments, hearing impairments, and physical disabilities, as well as for children who are in the foster-care system or who live in urban and economically-disadvantaged neighborhoods.
The ranch is sited between Lago Vista and Marble Falls, and affords a panoramic view of the Texas Hill country with sprawling hills and a beautiful canyon. The three-part zipline tour is accessible and thrilling for children of all ages and abilities. Candlelight Ranch also offers a low-ropes challenge course for team-building activities, a two-line bridge for a high-elements challenge, equine learning activities, and outdoor education led by Program Director and Master Naturalist, Lynette Holtz. The ranch also boasts the largest wheelchair accessible treehouse in Texas!
*Candlelight Ranch is a 501(c)(3) non-profit corporation.
For more information about Candlelight Ranch and "Dress by Candlelight", please contact Harriett Kirsh Pozen, Executive Director harriettkp(at)gmail(dot)com or 512-567-3775.
To visit the ranch contact our Program Director, Lynette Holtz 512-633-8403 or lynette(at)candlelight(dot)org.
Release issued by Audience Generation, LLC
Audience Generation is a forward-thinking agency at the forefront of the digital revolution and is a nationally and internationally recognized provider of integrated marketing, advertising, and technology services and solutions that offer a new way to find, generate, and engage live, online, social, and mobile audiences where they exist on demand.
Audience Generation is known for its creative strategy, actionable solutions and measurable approach to transforming the ways brands interact with their target audience, whether they exist in person, online, via social networks, or on their mobile devices.
Audience Generation has produced winning traditional, online, e-commerce, social and mobile campaigns including mobile application solutions for Fortune 500, small and medium businesses, not-for-profit organizations, national and international associations and societies, and venture-backed start-up companies across a variety of industry verticals around the world.
To learn how Audience Generation can find your ideal customer, reach them where they exist, build your brand, and grow your bottom line, please call us at 512-708-4678 or email us at mwayne(at)audiencegeneration(dot)com or visit us at http://www.audiencegeneration.com.