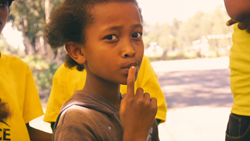 Ethiopia (PRWEB) October 21, 2014
"What is the happiest memory you have?" one Reddit user asked. She responded "My happiest time is today because I can share things about my life and people are very interested."
Meseret Tigabie is a 10-year old street child working to support her family in Bahir Dar, Ethiopia. Her story inspired thousands after she appeared on an Internet live-stream, which led to more than $4 million in funding for Ethiopian children in need. This included $200,000 in donations being raised, and helped Save the Children meet its matching U.S. government grant requirements in just one weekend.
Through a Reddit AMA (Ask Me Anything), she answered people's questions from around the world about all aspects of her life. The conversation quickly became the #1 post of the day on Reddit.com (see screenshot) and the exceptional amounts of exposure led to a huge outpouring of global support for children in her situation.
The Reddit post with all her questions and answers can be viewed at http://bit.ly/1CNfkAJ
The live-stream that raised awareness around poverty in Ethiopia for children such as Meseret was run by independent, volunteer fundraisers from Belgium, Bachir Boumaaza and Dries Leysen (aka Athene and Reese), through their website GamingforGood.net. All donations benefitted Save the Children to support their maternal, newborn and child survival and nutrition programs in Ethiopia.
Videos that captured the story:
Amesegnalehu (which means "thank you" in Ethiopian language, Amharic): http://youtu.be/uL5C4APzpq4
Changing A Life: http://youtu.be/nFVU_K2QPbk
To learn more about Athene's projects supporting Save the Children, visit http://www.SavetheChildren.org/Athene.
Contact: Dries Leysen, reese(at)gamingforgood(dot)net