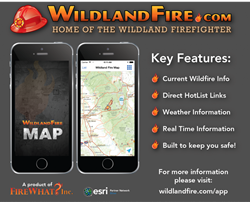 According to Sam Lanier, FireWhat's CEO, "Now, anyone with an iPhone can access real-time fire information anytime they need it. We are thrilled to release this app as the first in a suite of tools we'll be rolling out over the next year."
Dunsmuir, CA (PRWEB) October 22, 2014
FireWhat, Inc. is releasing the next generation of mobile fire mapping technology on October 22nd. Access real-time fire maps and fire incident information, such as a fire's size, location and spread path, current weather and more using Wildlandfire.com's new iOS app "Wildland Fire Map". The mobile app will be available for free starting October 22nd from the iTunes App Store.
In the fall of 2011, FireWhat created the "Wildfire Pro" iOS App for use by fire-fighters, to accurately map wildfires across the nation and provide the most up-to-date fire information available. Since the release of Wildfire Pro, FireWhat has partnered with Esri, makers of ArcGIS, and is currently in development on several wildland fire tools and apps for public and private sectors.
"Wildland Fire Map" is the first FireWhat app to use ArcGIS mapping technology, taking the rich wildfire data from wildlandfire.com and presenting it in an easy-to-use map. The app also features MODIS Hotspot Detection from the NASA GOES WEST R Satellite, active fire perimeter mapping, and custom overlays including Severe Weather Warnings and NEXRAD Radar. This app is aimed at anyone requiring more information about wildland fire incidents as they occur.
"Our company was founded to help the fire-fighting industry stay informed and safe while in the field," says Sam Lanier, CEO and co-founder of FireWhat, Inc. "But, as this summer of drought and rampant wildfires in California has demonstrated, everyone living in a fire-prone region also has a need for wildfire information. Now, anyone with an iPhone can access real-time fire information anytime they need it. We are thrilled to release this app as the first in a suite of tools we'll be rolling out over the next year."
Download the free app from the iTunes App Store or visit http://www.wildlandfire.com/app/ for more information.
About FireWhat, Inc.
FireWhat, Inc. was founded in Dunsmuir, California in 2010, to bring innovation to the technology-deprived industry of wildfire response. FireWhat provides custom GIS technology tools to map and track assets in and out of the field, and operates GIS Mobile Labs available for on-site incident support. FireWhat also owns and operates Wildlandfire.com, the most trusted source of wildfire information in the nation, and is an Esri Silver level partner GIS Technology Company. Visit Wildlandfire.com at facebook.com/Wildlandfirecom or follow them at twitter.com/wildlandfirecom.