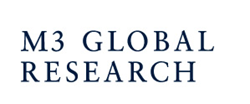 (PRWEB) October 21, 2014
M3 Global Research, part of the M3 Group and one of the largest healthcare data collection companies in the world, is proud to announce that Roni DasGupta, Head of Market Research Sales, and Bill Friedrich, Director of Research Services, are recipients of the 2014 Pharmaceutical Market Research Group (PMRG) Circle of Excellence Award. The award is given each year to PMRG employees, volunteers and officers who advance the PMRG through extraordinary efforts. There were three recipients of the award this year and two of them were from M3.
Each recipient is selected by the following criteria:

Deliver greater than expected results by assuming greater responsibility beyond outlined goals and objectives
Advocate PMRG beyond personal gain
Participate regularly in PMRG activities
Roni DasGupta founded PMR Charities, Inc., a charity organization which is endorsed and organized by the PMRG Charities Committee. The organization raises money for a selected charity by hosting events and activities throughout the year. This year the organization is raising money for St. Judes Children's Research Hospital. A new charity is selected each year by a committee vote.
Bill Friedrich has been a member and volunteer with PMRG since 1983. Through his years with PMRG he has served as PMRG President, Program Chair and currently serves on the Program Committee for the PMRG Annual Conference.
"M3 is proud of both Roni and Bill on their accomplishments with PMRG and receiving the Circle of Excellence Award," says Craig Overpeck, COO of M3 Global Research. "One of our goals at M3 is for our employees to be a part of the community and contribute to the industry through organizations like PMRG."
Roni DasGupta and Bill Friedrich were honored at a dinner and ceremony on Monday, October 20, 2014, at the PMRG Institute in New Brunswick, NJ.
About M3 Group
The M3 Group operates in the US, Asia, and Europe with over 2.5 million physician members globally via its physician websites such as m3.com, mdlinx.com, research.m3.com, doctors.net.uk, medigate.net and medlive.cn. M3 Inc. is a publicly traded company on the Tokyo Stock Exchange (jp:2413) with subsidiaries in major markets including USA, UK, Japan, S. Korea, and China. M3 Group provides services to healthcare and the life science industry. In addition to market research, these services include medical education, ethical drug promotion, clinical development, job recruitment, and clinic appointment services. M3 has offices in Tokyo, Washington D.C., Fort Washington, PA, Oxford, London, and Seoul.